Luxury real estate, cars and 1000 railway cars. Matios said about the luxurious property of the company Klimenko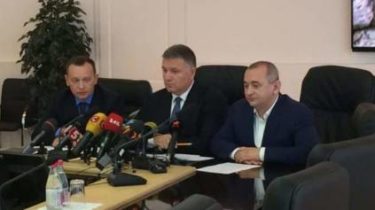 Law enforcement authorities exposed a massive scheme of theft by the former Minister of incomes and fees of Ukraine Alexander Klimenko money from the budget.
This was stated during a briefing by the military Prosecutor Anatoly Matios.
"During the 2011-2013 ex-Minister of income and fees Alexander Klimenko created a number of offshore companies in the British virgin Islands, Cyprus, Liechtenstein, the owner of which was the father Klimenko. Stolen via a criminal scheme of theft from the tax areas state funds were legalized Klimenko, and they hired lawyers and partners in European banks. Major European banks Liechtenstein", – he stressed.
According to Matios, from 2011 to January 2014, more than 788 million dollars stolen from the state, were transferred to offshore companies Klimenko on account of the group of companies "unison".
"Unison" – the parent company of a family of Klimenko, his brother Anton, and father and the Minister. The money transferred to the accounts of media holding "Vesti" and the two management companies ' assets that were included in the companies of the group "unison" and the owners of which were the Klimenko family, and who waited on the family of Yanukovych. "Unison" routine from offshore money bought 78 luxury apartments in Kiev, Odessa and Donetsk, 28 office space, 5 houses, 41 Parking spaces, 11 of land in the exclusive territories and districts of Kiev and Kiev region, Odessa and Donetsk, 23 hyperelite car, from Bentley, three floors of the shopping center "Gulliver" on the right of property in Kiev, 1000 railway wagons that brought in the income Klimenko and was the main source of financing of the media holding "Vesti", – said the military Prosecutor.
In turn, the head of the MIA of Ukraine Arsen Avakov said that discovered the property was locked, and the cost is $ 12 million.
"The helicopters were ready, but today the inclement weather, we found the submarines and all the burrows where they were going to run", – said Matios.
In addition, the military Prosecutor said that at present, the mechanism of legalization and the number of persons who continue to participate in a criminal organization Klimenko and accumulate the income from this property, which flows into quasiparti "Successful country", the media holding "Vesti", the security structure "SKIF".
"Security structure "SKIF" – the former security guards who carried out the pressure, protests, threats to life and health", – said Matios.
Recall that on 14 July the security forces conducted 183 searches in the premises, which belong to the ex-Minister Klymenko, in particular, in the office center "Gulliver" in the city of Kiev, several floors of which is the property of ex-Minister and members of his family.
Videogramme detention: the security forces surrounded one of the shopping centers of the capital
TSN. 12:00
July 14, 12:23
Facebook

2

VKontakte

2

Google+

2

Twitter
Comments
comments