NABOO called the Rosenblatt and Polyakov for questioning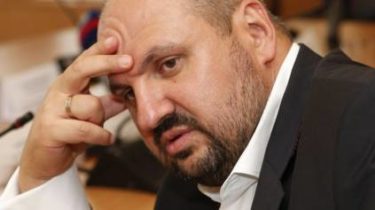 People's deputies from BPP Borislav Rosenblat and "people's front" Maxim Polyakov was summoned for questioning in NABOO.
This was written by the head of the Specialized anti-corruption prosecutors Nazar Golodnitsky in Facebook.
"The deputies of the Poles and Rosenblatt. Yesterday declared the suspicions of these persons for acts of corruption; today, they are summoned to the NABOO", – he stressed.
According to him, after the investigation will gather all the evidence – will draft an indictment and it will be directed to court for consideration in essence.
Holodnitsky added that the SAP prosecutors and detectives NAB is focused on fast and high-quality completion of the preliminary investigation.
"All, as ordinary citizens of Ukraine, only without the arrest and detention (arrest). Now the risks of preventing pretrial investigation, as well as concealment from justice, these MPs remain, but we cannot petition for their detention and arrest, because Parliament has not given consent to it," – said the head of SAP.
See also:
MP Rosenblatt questioned NABOO
We will remind, Rada allowed Polyakov to bring to justice. For a decision voted 250 deputies. Thus the people's representatives actually voted to withdraw immunity from Polyakov.
The same day , the deputies agreed to the involvement of Rosenblatt to justice. For a decision voted 296 deputies.
Director of the NABU Sytnyk June 20 during a briefing uncovered a scheme for the extraction of amber, to say nothing of Rosenblatt and Poles. According to the head of the Bureau, referred to the scheme under the guise of reclamation of Zhytomyr region planned actual amber extraction and subsequent implementation through an offshore company where the founder was the sister of Rosenblatt.
The amount of bribes received in the said case is more than 300 thousand hryvnias. June 19, detectives of the National anti-corruption Bureau of Ukraine detained the security guard of the people's Deputy from BPP Borislav Rosenblatt during receiving a bribe of 200 thousand dollars. The people's Deputy Serhiy Leshchenko claimed that co-defendant Rosenblatt received money for the solution of a question on licensing of production of amber.
Videonation Rosenblatt and Polyakov questioned in the amber case
TSN. Wounds
14 Jul, 08:39
Facebook

VKontakte

Google+

Twitter
Comments
comments