Dobkin came out of the GPU with the words: "I have no handcuffs."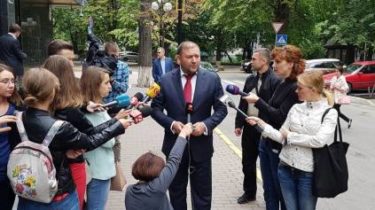 MP from "Opposition bloc" Mikhail Dobkin presented the suspect in the premises of the Prosecutor General of Ukraine. In General, the GPU's Deputy spent about half an hour, the correspondent of TSN.
As Dobkin told journalists the suspicion he was handed personally by the attorney General and his Deputy. In the document, according to the MP referred to the article "abuse of office" and "fraud". The MP says that earlier he sounded more serious articles of the criminal code, according to which it should be judged.
After the state office of public Prosecutor Dobkin goes to the investigation Department of the GPU, where he will be interrogated. The court's remand, according to the MP, could be held on Monday (17 July) or Tuesday (18 July).
A Dobkin took all the passports to them to surrender and to show that to escape from the country is going. At the same time reported that one of the passports is now at the visa application centre because it gave him visa earlier.
Comments
comments