"Not yourself": a video brother Dobkin, who behaves oddly at the hearing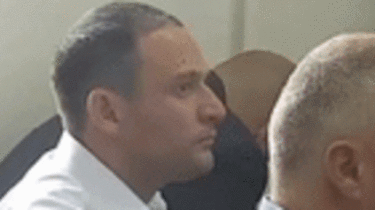 Today, Saturday, July 15, in the Pechersk district court of Kiev should choose a measure of restraint to the Deputy from "Opposition bloc" Mikhail Dobkin.
At the hearing, but his colleagues in the faction Vadim Novinsky and Nestor Shufrych also granted the younger brother of Dmitry Dobkin.
See also:
The Dobkin case: protection added new evidence, the court adjourned
As noted journalists, Dobkin Jr. is not feeling well. During the meeting he was acting weird. Below you can see the video.
We will remind, on Thursday, July 13, the Verkhovna Rada at its evening session gave consent to criminal prosecution, detention and arrest of MP from the opposition bloc Mikhail Dobkin. For the removal of his immunity voted 288 deputies from 339 present, it was enough and thus, Parliament has consented to the prosecution of this MP.
14 Jul Dobkin questioned in the investigation Department of the gpou.
On 29 June the attorney General Lutsenko made a submission to the Parliament on the granting of consent to the criminal prosecution, detention and arrest Dobkin. The GPU in the actions of nupdep saw the signs of deliberate arrangement by group of persons for abuse of official position and the promotion of fraud in order to seize 78 hectares of land Kharkiv regulatory cost of more than 220 million UAH.
Comments
comments