There was a video of a large-scale searches in the company of former Minister Klimenko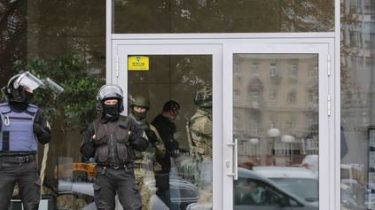 The Network showed video of a large-scale searches in the company of ex-Minister of incomes and fees of Ukraine Alexander Klimenko in the shopping center Gulliver, Kyiv.
Posted by MIA.
See also:
Detention and billions in losses. The main thing about the RAID against the tax Yanukovych and Klimenko
In particular, on the website of the Ministry of interior noted that the total amount of stolen funds is 12 billion US dollars. The Minister noted that the first operation concerned the schemes with a regional tax pits. In turn, today's stage has a wider range of actions.
According to information, former Minister of revenues and duties of Ukraine Alexander Klimenko during 2011-2013 has created a number of offshore companies in the British virgin Islands, Cyprus and Liechtenstein. The owner of the offshore companies was listed in his father.
From 2011 to early 2014 stolen state funds amounting to more than 788 million US dollars were transferred to Ukraine on the accounts of companies "UNISON", media-holding "VSTi" and two companies on asset management, the owners of which were the Klimenko family and which served "family" of Yanukovych.
We will remind, on July 14 the security forces of the capital of the Mall Gulliver has spent 183 searches in the premises, which belong to the ex-Minister Klymenko, in particular, in the office center "Gulliver" in the city of Kiev, several floors of which is the property of ex-Minister and members of his family.
Comments
comments