Militants in the Donbas were forced to hand over money on entertainment for the Commission, the Russian General staff – intelligence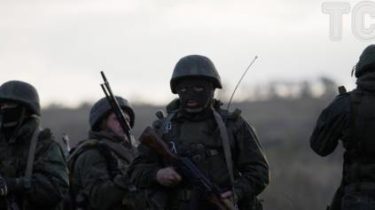 Militants "LC" forced to hand over their own money for entertainment for arriving of the Commission of the territorial army Centre IN the southern sun, the Russian General staff, coordinates the activities in the Donbas.
About it reported in a press-service GU of the Ministry of defense intelligence of Ukraine.
"While checking connections and parts 1, 2 academic Commission of the Center of the territorial army IN the South, armed forces officers 2 separate motorized rifle brigade (Lugansk) handed over their own money on "recreation" members of the Commission", – is spoken in the message.
See also:
To fighters on Donbass there arrived the Commission of the General staff – intelligence
Currently, among the militants is spreading dissatisfaction with the actions of the command of the Russian occupying force, caused by the concealment of the participation in hostilities of Russian citizens (lack of benefits) and fees.
In particular, individuals who fought against the forces of ATO in 2014, do not issue "certificate of the participant of military operations" to conceal their involvement in the conflict in the Donbass.
We will remind, for the last two weeks insurgents have lost a third of the personnel of the reconnaissance company. In particular, the work of these individuals led to significant losses of personnel of the intelligence units. In addition, the formations and units of 1 (Donetsk) and 2 (Lugansk) AK armed forces continues to grow the number of crimes and illegal actions against the civilian population. It is noted that two Russian officer 9 private infantry assault Marines (Novoazovsk) 1 AK in order to enrich committed an armed robbery several areas of civilians.
Comments
comments