The fighters on the bridge in the Village of Lugansk took hostage a woman with disabilities – media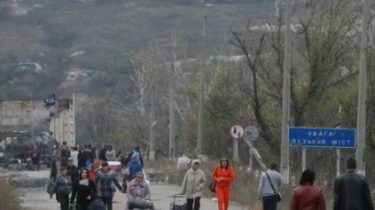 In the Luhansk region in the occupied part of the bridge in the Village of Lugansk militants took hostage the local resident with a hearing disability.
This is with reference to own sources writes "Ліга.net".
As noted, the 39-year-old Lugansk resident last Thursday, 13 July 2017, returning home in the occupied Lugansk and passed the Ukrainian checkpoint, which is documented.
"Maybe a hearing aid is the power down, so she could not understand what is required of her fighters at the checkpoint. There they now ask a lot of questions about the purpose of the trip, the family and the residence permit", – said the source, adding that the woman has a disability due to impaired hearing since childhood.
According to the interlocutor of the edition, luganchanka did not return home and to communicate with their families not out.
In turn, the eyewitnesses said that the terrorists forced the woman to show all the bags and took the cell phone to check.
Earlier, gunmen shot a man near PPC "Marinka". The victim received a wound on the uncontrolled territory.
Comments
comments