Federation under the flag of Khmelnytskyi. "DNR" announced the creation of new fake States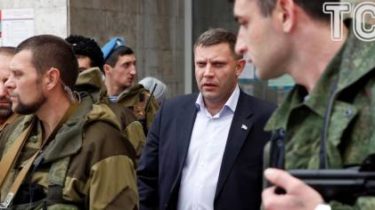 Today, July 18, it was reported that the leader of the so-called "DNR" Alexander Zakharchenko said about the establishment of a "transitional state Malorossiya".
In turn, "acting Deputy Chairman of the Council of Ministers DND Alexander Timofeev" read out in the occupied Donetsk so-called "constitutional act of the Ukraine," write the information resources of the militants.
According to the "document", the so-called "capital of the new state" should be Donetsk. According to the invaders, the creation of "a new state is intended "to stop the civil war and to avoid new victims".
See also:
Action Zakharchenko acknowledged the occupation of Donetsk
In addition, the militants have created a "constitutional act Malorosii," according to which "Kiev will retain its status as the historical and cultural center". In turn, the flag of the so-called "little" will be the flag of Bohdan Khmelnytsky.
"The Constitution of Ukraine prepared and was adopted in the original version by the constituent Assembly and then submitted to a referendum. This will be preceded by extensive public debate at both the regional and Federal level ", – stated in the "Constitution act" of the militants.
As previously reported, the leader of "DNR" Alexander Zakharchenko said that the Donetsk occupiers want integration with Russia. The main terrorist Donetsk called Russia their homeland.
Comments
comments