Zakharchenko announced the establishment of "little"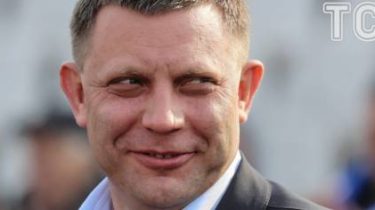 Ringleader "DPR" Alexander Zakharchenko said about the establishment of a "transitional state Malorossiya". It is reported by RIA "Novosti".
The main terrorist Donetsk claims that the situation in the Donbas came to a standstill, and the war in the East in the tradition of Russian propaganda called "civil".
"The situation is deadlocked. We offer a reintegration plan in the country to stop a civil war we discussed the situation and came to the conclusion that Ukraine has shown itself as nesostoyavsheesya state. The Kiev regime is unable to leave the civil war… proposed to establish a state Ruthenia. Little Russia – the independent young state. For a transitional period of up to 3 years, " he told reporters Zakharchenko.
See also:
Zakharchenko capture London and deploy tanks in Reykjavik: users ridiculed the LNP leader "DNR"
On the website of the terrorists "GIVEN" the information appeared that the creation of a "little" allegedly declared "representatives "DNR", "LNR" and 19 regions of Ukraine", and the fake capital of the state elected the occupied Donetsk.
"We, the representatives of the former regions of Ukraine (except Crimea), declare the establishment of the new state, which is the successor of Ukraine. We agree that the new state will be called little Russia, because Ukraine has discredited itself", – stated in the text.
As previously reported, the leader of "DNR" Alexander Zakharchenko said that the Donetsk occupiers want integration with Russia. The main terrorist Donetsk called Russia their homeland.
Comments
comments