Raving psychopaths. Gerashchenko explained the idea about "little" extra drunk alcohol from Russia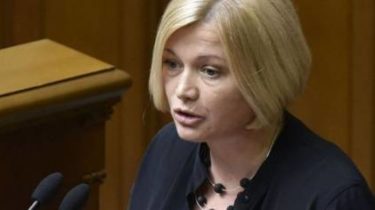 Militants in the Donbas, announced about the alleged creation of "the Ukraine" in order to divert attention from the topic of the release of the hostages and the violation of the ceasefire.
This was stated by first Vice-speaker of the Verkhovna Rada, Ukraine's representative to the Humanities subgroup of the Trilateral contact group in Minsk Irina Gerashchenko on his page in Facebook.
"Terrorists and psychopaths do not comment. Why now these enchanting statement from the leader of the militants? Well, maybe it was a hot Sunday, probably brought traditional Russian humanitarian aid with a traditional Russian product and the "leaders" of the census. Their statements – a question for psychiatrists and prosecutors that all this terrorist nonsense has to collect one case of inciting ethnic hatred, encroachment on the territorial integrity of the country. And the courts – Ukrainian and international – sentence. But in this hectic terrorists is one thing. They are not independent. Even when drunk", she said.
According to the representative of Ukraine at the talks in Minsk, the militants in the Donbas give voice to what they wrote to the Kremlin, "that in their stupid heads put the Kremlin, who appointed their chiefs.
"New Russia", "little Russia" – is "history" written by the Kremlin, which in an emphasis does not see Ukraine rages that Ukraine was, is and will be," she added.
According to Gerashchenko, this statement was made now because on July 19 in Minsk scheduled next meeting, and the militants ORDO trying to divert attention from the topic of the hostages and security topics.
Besides, she believes that Russian President Vladimir Putin "to raise the stakes, continue their cynical game that "we are not there," "young Republic" and "the conquered peoples of Donbass, which Kiev must engage in direct dialogue."
"This is an attempt to shift attention from a blocked release of the hostages, the daily attacks. To all the experts and the media quoted the terrorist with his nonsense, not demanded from the Russian release of the hostages and compliance with the silence regime. This nonsense shouldn't comment on it's not worth paying attention to, is to do their to increase pressure on Russia, strengthen the army, in the autumn to adopt a law on reintegration to liberate the territory, including from degraded drunkards, who dream of "Novorossia". Place the degradantov behind the curb, there is already a colony of Russians, so let it sit close to the Kremlin masters", she concluded.
Recall that on 18 July the leader of "DNR" Alexander Zakharchenko announced the establishment of a "transitional state Malorossiya". In addition, the militants have created a "constitutional act of Ukraine" according to which "Kiev will retain its status as the historical and cultural center", and the occupied Donetsk is the capital. The flag of the so-called "little" terrorists have identified the flag of Bohdan Khmelnytsky.
Comments
comments