The next booth. The foreign Ministry responded to the creation of "little"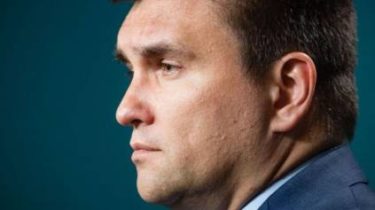 Foreign Minister Pavlo Klimkin said "farce Donbass puppets" statement of the leader "DNR" Alexander Zakharchenko about the making of "the Ukraine".
He wrote about this in his Twitter.
2/3 of the Kremlin puppeteers with their puppets Donbass staged another farce, pulled out of mothballs Ruthenia.
— Pavlo Klimkin (@PavloKlimkin) 18 Jul 2017
See also:
The project "new Russia" was buried. Poroshenko promised to return Donbass after the words Zakharchenko
Recall that on 18 July the leader of "DNR" Alexander Zakharchenko announced the establishment of a "transitional state Malorossiya". In addition, the militants have created a "constitutional act of the Ukraine", according to which "Kiev will retain its status as the historical and cultural center", and the occupied Donetsk is the capital. The flag of the so-called "little" terrorists have identified the flag of Bohdan Khmelnytsky.
According to the representative of the Ukrainian delegation in the talks in Minsk, at a meeting in Minsk may not be much to talk about through the statement Zakharchenko. Therefore, the creation of "little" may paralyze the talks in Minsk.
Meanwhile, in the "LC" has managed to distance itself from the "little Russia". In particular, representatives of the so-called "LNB" did not participate in the "meeting" in the occupied Donetsk, where terrorists announced the establishment of "the Ukraine". This was announced by the head of the self-proclaimed "people's Parliament LNB" Volodymyr Degtyarenko, who was quoted by the website of Lugansk terrorists.
Comments
comments