Strelkov said that "Boeing" was shot down about "pickuped" wrote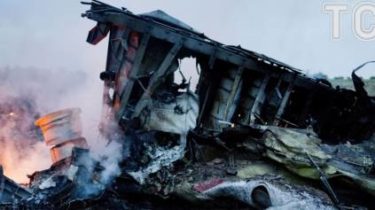 The former leader of the terrorist organization "DNR" Igor Girkin (Shooters) stated that the militants did not shoot down the plane "Boeing" flight MH17 over the Donbas in 2014.
He said this during a debate with the Russian opposition activist Alexei Navalny.
The "militia "Boeing" was shot down for lack of funds, which it could bring down", – said Girkin.
According to the ex-leader of the "DPR" militants in 2014 from air defense had five SAMS "Igla" and "Strela-10", which, according to Girkin, at the time of the fall of the "Boeing" was in Zugres (city in Donetsk region).
See also:
Three years of impunity. For the 298 deaths on Board MH17 no one answered, but new evidence
At the same time, Igor Girkin said that is not interested in the crash investigation of "Boeing".
Also, the ex leader of the militant says that does not wrote message "ptichkopade" after the plane was shot down flight MH17. According to him, in 2014 he had no accounts in any social networks. "The only place where I wrote my reports, it was a forum "Antiques", – said Strelkov.

We will remind, the Bellingcat team found probable military drivers which had to do with the "buke 332" who brought down flight MH17 in the Donbas. This is stated in the new report of the organization.
So, the photographs published in the Russian social network Vkontakte, the soldiers of the drivers from the 2nd and 147th road battalions, see the trucks and sweepers with the same license plates as the car that was moving in a convoy and that was on video and photo from 23 to 25 June 2014.
A new report by Bellingcat identified truck drivers in the columns, which were transported by "Buki" in June and July 2014, including a truck carrying "Buk 332", number "4267 AH 50", and the number of trawl – "XP 4679 50". The report also indicated drivers that could be relevant to the transportation "Buck 332" Millerovo on the Russian-Ukrainian border.
17 Jul 2014 in the area of armed conflict in Eastern Ukraine was hit Boeing 777 Malaysia Airlines, carrying out flight MH17 from Amsterdam to Kuala Lumpur. The tragedy occurred in the Eastern Donetsk region near the village of Hrabove, near Torez. All 298 people who were on Board were killed.
13 October 2015 , the Security Council of the Netherlands issued its own report on the crash of passenger liner Boeing 777 "Malaysian airlines". According to the document, the aircraft was struck by parts of the 9N314M missiles fired from MANPADS "Buck"; it was found that the initial launching point is located on a land area of about 320 square kilometers in Eastern Ukraine.
Videoadvice relatives of those killed in the MH17 disaster has promised that will force the Kremlin to answer for their actions
TSN. 16:45
12 Jul, 17:23
Facebook

4

VKontakte

2

Google+

Twitter
Comments
comments