Night in a private hotel and the fainting chief border guard: what will be remembered for the visit of Lukashenka to Kyiv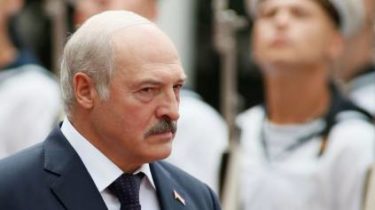 Blocked road, the secret tour of Kiev and a failed attempt by the Femen activist meeting with Ukrainian President – it's not all the details. Despite all unplanned stimuli, Kiev managed to sign a number of important agreements and to enlist the support of neighbors in opposition to Russian aggression, according to a story TSN.19:30.
Lukashenko, will be going home from the Ukraine a lot of impressions. On the way from the airport to Kiev a few half-forgotten traditions of the past reminded law enforcement officers – they are blocked for the presidential motorcade, one of the main highways of the capital. Lukashenka's motorcade consisted of 28 cars, and there were the police, state guard and the car of an emergency. Ordinary drivers in traffic has had to wait a good hour. At this time, those who have a car accident in other parts of the city, waited in vain for the patrol to issue autoincident – all were busy with road closures and maintenance of the Belarusian President.
Videotiny tour and naked Femen activists: how was Lukashenka's visit to Kyiv
TSN. 19:30
Yesterday, 19:58
Facebook

VKontakte

Google+

Twitter
It is not known whether Lukashenka any meetings yesterday, but the place where he spent the night – very unusual. This is not a residence, which usually provide-presidents, and private 5-star hotel nearby the banks of the Dnieper. Prices presidential and Royal apartments there range from 8 to 12 thousand euros per night.
Morning Lukashenko began with excursions in Kiev. No Ukrainian media were not invited, extra cars, and random passers-by to the place of residence of the Belarusian President did not miss. It is known that Alexander Lukashenko visited the Museum of the Holodomor and left on Bank. There he met with the entire diplomatic generosity – red carpet, an honor guard, a friendly handshake from Peter Poroshenko.
Comments
comments