In Kiev, the knacker killed the dog men with disabilities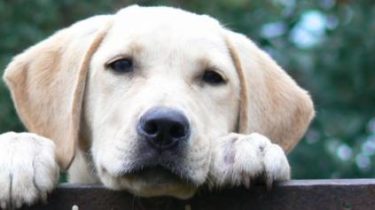 A few days ago in Kiev, Bortnichi unknown poisoned a guide dog for the disabled of the 1st group.
As reported Dnia volunteer and animal rights activist Maria Nikitochkina, with Alexander personally not familiar, but he gave the number as "heads of Fund of protection of animals".
"He called me and started crying that he had poisoned the dog. It happened three days ago, somewhere," says Maria.
See also:
Thrown out of the window and kept in the freezer kitten: lucanin-flayer went to jail for 5 years
She also said that someone planted the poison just in the house where Alexander lives, the dog ate it and she immediately felt bad.
"The owner knew immediately that she began to die, a neighbor called the vet, but the doctor already did not have time to do," she said.
According to the volunteer, the man lives alone in a ruined house. He is an orphan, no parents, no friends in the capital had not. Alexander himself from Kropiwnicki, he previously had surgery on her eyes, but she did not help him to restore sight.
See also:
In Uman knackers tied the horse to the BMW X5 and speed put her on the track
"That dog was his only friend for many years. He always went, she responded to the threats and helped him in everything. He is now the stress, the shock, his life has stopped," added animal rights activist.
In a network of active volunteers to help Alexander who than can.
"He requests to have him placed in a rehab, because to live in a dilapidated house he can not. He's got two mutts and he asked to take them to a shelter. He was afraid that if I take a new dog, you will poison her," says Maria.
The zoodefender notes that in Bortnichi in the same day, lost more than one dog from the poison. She believes that someone deliberately went and scattered in the yards of the poison, it was probably the hunters. The killing of animals can be seen in other areas of Kiev.
See also:
In the river defenders of animals demanded to increase the punishment for flayers
"This of course could be anyone, a neighbor, a foe of some kind. But the police wants to investigate. They came and went", – the volunteer speaks.
In turn, Alexander realizes who could kill his best friend.
"I can guess which side the wind is purged and you know who ordered the guard dog to kill. It's someone local. Did maybe not they but ordered it exactly," he said.
Alexander did not name who he suspects, but added that a lot of these cases lately, and the Skinner has a special website with telephone numbers where you can order the killing of an animal.
See also:
The kitten died, which in the luck cruelly mocked knackers
"There freaks these make the orders, and knackers then go and kill, and just go and poison by area scatter," said he.
The owner says he's only got two mutts and it is scary to stay with them in this house. Labrador, he took in 2015. By chance, he came to Alexander, after which a single step was all over him.
"It (the Labrador – ed.) then just threw, tied with a rope in the woods. He is so smart and was good," says the man.
See also:
In the region closed the criminal case against flayers, who dismembered puppy
A police report, Alexander wrote, but he thinks it's useless because there's no evidence, no video images, no witnesses.
"We look for a new dog, but I first need to leave this accursed place to another my dog was not killed. As they say, before you choose a house, choose your neighbors," he added.
We will remind, on July 24, Goloseevsky court of Kiev has pronounced a sentence to Dmitry knacker Kyyanytsya in the form of 6 months of imprisonment.
Case Kyanize received wide publicity when the Network got a video in which the convicted person tied a cat to a tree by the neck and beat him with a hose. Video posted online by animal rights activists, they also paid for the medical treatment of animals.
Videosu announced the verdict of the man who last spring mocked the cat
TSN. 19:30
24 Jul, 20:05
Facebook

2

VKontakte

Google+

Twitter
Comments
comments