Ukraine owed more than 75 billion dollars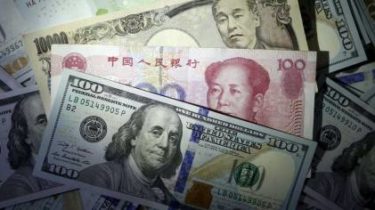 The total public debt of Ukraine has reached more than 75 billion dollars, representing almost 80% of the country's GDP.
This reports the press center of the Ministry of Finance.
In particular, the total direct and guaranteed state debt of Ukraine as of June 30 rose 0.44%, or 330 million to 75.01 billion. Meanwhile, in national currency total amount of direct debt amounted to 1.65 trillion hryvnia.
See also:
Wage arrears in Ukraine exceeded UAH 2 billion
The direct external debt for the month increased by 150 million to 37,24 billion dollars, while direct domestic debt decreased to 678,88 billion.
In turn, the state-guaranteed debt at 30 June amounted to 306,76 billion, or 11,75 billion.
We will remind, the NBU told how much debt Ukraine has to return and where to take money. Until 2019, Ukraine should repay $ 11 billion of foreign debts.
"There are different estimates of the amount of the payment, because there is the question of what to consider. Are payments of the Ministry of Finance on external debt, the national Bank – the obligations to the IMF, disbursements of state-owned companies payments on foreign bonds. In total, by 2019 we will need to pay about $ 11 billion. However, if you look at the balance of funding for the IMF (10 billion dollars), the payouts don't look very heavy," said the Deputy head of the national Bank Dmitry Sologub in an interview Finbalance.
The official assures that the risks of lack of money for repayment of debts in 2019-2020 low, because Ukraine cooperates with the world Bank, the European Bank for reconstruction and development, the European Union will begin to attract capital on international markets.
The state budget 2017 provides that year-end public debt should not be more than 1 trillion 716,63 billion.
Comments
comments