Innovation subsidies: monetization, changes in declarations and "weeding out the wealthy"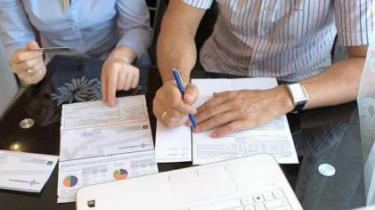 In Ukraine began to operate the new rules reordering of subsidies for communal services for new heating season.
This is stated in the plot program "snidanok z "1+1".
Today in Ukraine every third family (over 4.3 million) and receives subsidies. Without them to pay utility bills that the Ukrainians would have been extremely difficult, officials acknowledge. The flow of wanting to get the privilege to communal in the ACP does not stop.
But to bring happiness to the extension of the subsidies in the new heating season, the government decided not all. This year will be to go through a process of carrot and stick. Who found the debt more than two months – benefits are not seen.
"If the debt is more than two months, then every debtor we work – the debt must either pay in full or make an agreement to restructure this debt. If there are specific circumstances in the family, a statement shall be submitted to the district Commission. Each family has its own individual problems, we approach each individually," – said the Deputy head of the Department of labour and social protection of population of Svyatoshinsky district administration of Kyiv Galina Kravchenko.
Such a rule already was in place before. In 2017, it decided to return. But those who saved on heating (only those who heats with gas or electricity) and spent less than normal subsidies, state guarantees pleasant surprise. The saved energy back to the Ukrainians in the form of money. The application for monetization, you must submit before 1 September and at the beginning of the heating season to obtain the payment of up to 700 UAH.
"Therefore, the government encourages the population to save energy, take action on energy-efficient behavior, change equipment, change the heating system. Another innovation concerns the definition of income levels. If earlier Ukrainians declared income for the calendar year (January to December), now is the time as close to the date of the receipt of the grant. For example, if the subsidy is given in may, then the Declaration should be submitted in April of the current year", – explains the Director of the Department of public social assistance Minsotspolitiki Vitaly muzichenko.
In the Ministry declare that in the next heating season is expected to reduce subsidized. Since the minimum wage increased, and so now more people will be able to pay communal.
Videosto should know about grants for the following year
Snidanok 1+1
Today, 08:37
Facebook

23

VKontakte

7

Google+

8

Twitter

6
Comments
comments