Experiment TSN. Why is it better to refrain from buying products in the markets in the heat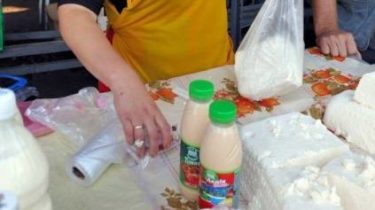 In the heat – threat milk and sweets. Buyers than the risk and what is actually buy? TSN and then inspects the street markets and capital markets. Buyers often turn a blind eye to clear violations and the quality of the goods. Experts also suggest to make a pause to visit the souks in the heat, after which it is possible to get some astrologicheskikh diagnoses.
This is stated in the plot of TSN.19:30.
The journalists decided to test in the laboratory, three kinds of milk – 1) from a private farm, which is sold in the supermarket, 2) at one of the capital markets (bought in the period of planned inspections), and 3) on the streets.
Milk market in the densities of fat was faulty. It is diluted with water, therefore the density did not meet the standard. Also in it the lab found soda. That is, the quality of the product has changed.
The milk in the supermarket is declared as-grown product was high quality. However, it has water in it. In normal whole milk water should not be.
And the milk from the spontaneous market surprised even the doctors. It soda not found, it was not diluted with water, enough fresh. And quality indicators were good. The lab says that perhaps just got lucky with the milk that I bought in the spontaneous market, a conscientious seller. After the purchase of perishable foods is always a risk regardless of the place of sale. And where exactly selects only the consumer.
Meanwhile, city authorities have warned that until September 1 at the street fairs and markets to ban the sale of perishable goods. And all because of the heat.
And it is worth remembering that markets consumer most not protected. An unscheduled inspection officials can spend only on the fact of poisoning, or on the complaint of the buyer and only if the sales receipt that markets are not given. Red tape can last for months. About scheduled inspections of traders warn for 10 days.
For more details, see the story of Victoria Dmitrenko.
Videojournalist TSN checked the quality of dairy products in the street markets of the capital
TSN. 19:30
Yesterday, 20:39
Facebook

VKontakte

Google+

Twitter
Comments
comments