Danyluk told about his condition after the suspicion of tax evasion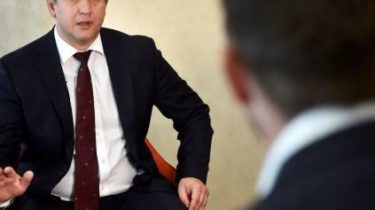 Finance Minister Alexander danyluk said that any suspicion or any other official documents from the investigative authorities about his alleged tax evasion, he did not receive.
This he said on Facebook.
The Minister said that the tax was audited by the respective court decisions, he has learned from the press. He stressed that to assess the condition costs exclusively during the previous period of work in the civil service (2010-2014), and not taking into account the period of work in the private sector, in particular, "many years of work in senior positions in various companies abroad" would be wrong.
For example, a house near Boryspil, it purchased in 2010 when he was still working in London, and the car 2008 – 2011.
"…All the taxes from my earned money was paid," says the Minister.
See also:
More than half a million hryvnias of income, the car and the icon. That has declared Finance Minister danyluk
Recall that Finance Minister Alexander danyluk suspected of tax evasion. Pechersk court – reported – allowed the attorney to verify the Minister of Finance concerning compliance with tax and currency legislation for the last 9 years before his appointment as Minister of Finance. In these years the income danyluk, allegedly did not meet the costs.
Viceministra Finance is suspected of tax evasion
TSN. 19:30
Today, 20:27
Facebook

VKontakte

Google+

Twitter
He headed the coordinating center for economic reforms under the Administration of President Yanukovych, supposedly, bought a house with an area of almost 300 meters and expensive cars and half a million hryvnias was put in the Bank. But according to the tax Declaration, the income of the Minister of Finance hardly exceeded half a million hryvnia.
Formerly a part of people's deputies demanded the release of danyluk.
Today is my first day of vacation. Finally escaped to spend time with family. Today know from the media that the…
Published by Alexander Danyluk / Oleksandr Danyliuk 31 Jul 2017
Recall danyluk announced its annual Declaration. So, in 2016 the official reported income in total amount of UAH 514 761.
Wages danyluk was 442 774 hryvnias, UAH 212 – interest on Bank Deposit, 71 805 UAH dividends.
According to the Declaration, Danilyuk declared 130 thousand dollars, and his wife of 17 thousand pounds in cash. Also on the Bank account of Olga danylyuk is 7600 pounds. The Minister of Finance has 1458 $ 3188 UAH in the Bank. 53 thousand dollars, the official lent to third parties.
Comments
comments