Belarusian companies are threatened with sanctions for the supply of products "LDNR" – Ambassador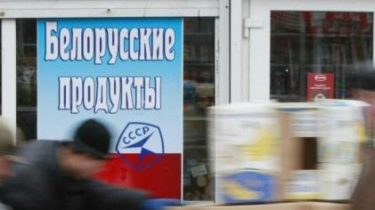 Ukraine and the EU will impose sanctions against Belarusian companies that supply products to the militants in the Donbas.
See also:
Ukraine and Belarus: in anticipation of hysteria
This was stated by Ambassador of Ukraine to Belarus Igor Kizim in an interview to "Belarusian news".
"We warn the Belarusian side formally: if Belarusian companies supply products directly to fighters against them, sanctions will be imposed", – he stressed.
According to Kizima, sanctions will be imposed not only from the Ukrainian side.
"We will try to ensure that these sanctions were imposed by the EU too. You need to understand that work not only diplomats, intelligence agencies work. In the case of availability of relevant information, such enterprises will be closed on the Ukrainian market is 100%", – assured the diplomat.
The Ambassador of Ukraine in Belarus also noted that recently the TV channel "Belsat" has published an investigation, according to which one of the largest Belarusian confectionery "Kommunarka" supplies its products to the occupied Donetsk.
"In the case of confirmation of these data "Kommunarka" just gets in blacklist and will not be able to supply products to the territory of Ukraine", – said Kizim.
Separately, the diplomat said that the presence of Belarusian goods on the shelves in stores in the occupied territories of Donbass does not always mean direct delivery.
"Sometimes Belarusian goods enter through intermediaries who buy Belarusian goods at the Russian companies", – said the Ambassador.
We will remind, on July 20-21, in Kyiv took place the meeting of President Petro Poroshenko and his Belarusian counterpart Alexander Lukashenko, who arrived in Kyiv on two-day visit.
The Belarusian President assured Poroshenko that Belarus will never use as a springboard for aggression against Ukraine. "You can count on us, and we will do everything we can for the sake of peace and stability in our native Ukraine", – he said.
Commenting on the success of the business forum, which began simultaneously with the summit talks, Alexander Lukashenko stressed that Belarusians, Russians and Ukrainians are the "core of civilization" in this part of the European continent.
Mutual trade between Ukraine and Belarus in comparison with the previous year increased by 26%, and now countries are planning to reach the level of 35%. "We see serious and real growth prospects. Set the task in the near future to achieve $ 5 billion of our mutual trade turnover," – said Poroshenko.
Comments
comments