Freed from the captivity of "LNR" the woman said as her grabbed photos from Pizza Veterano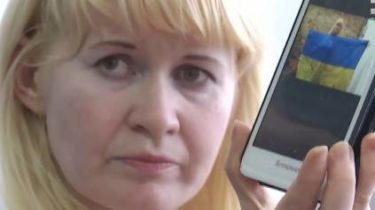 Blogger Ludmila Surzhenko after the captivity in Luhansk fighters first met with Ukrainian journalists. The woman was released on 29 July, and two weeks before that on a post of terrorists it arrested through the Patriotic photo on the phone, says the story TSN.19:30.
Surzhenko was thrown into prison, the so-called "LNR", where she was tortured. With her in the basement were some women who were held in dungeon a few months. Details of her release are still classified. Now the woman is going to undergo rehabilitation, and too late to get a job in free from terrorists part of the region.
Videonoverosana from the captivity of militants blogger Ludmila Surzhenko, for the first time talked to reporters
TSN. 19:30
Today, 19:59
Facebook

VKontakte

Google+

Twitter
Photo, for which she was captured, preserved. "When they saw this photo in Pizza Veterano, where the wall with the chevrons, they – have you talked to the military? Passed information about what is happening in the "Republic"? I replied: of course not," says freed prisoner "LC".
As reported, on 13 July in Lugansk, when crossing the demarcation line in the area of PPC "Stanitsa Lugansk", at the checkpoint of the militants "LNR", were detained by Ukrainian blogger, Lugansk resident Lyudmila Surzhenko (a pseudonym Ludmila Clear). On 30 July it became known that she kept in the basement, tortured to write a confession that cooperates with the Ukrainian military. Her body had traces of torture. Lyudmila has now received medical treatment. The woman in security.
Comments
comments