On the court against Yanukovych was summoned as a witness former Ambassador of Ukraine to the UN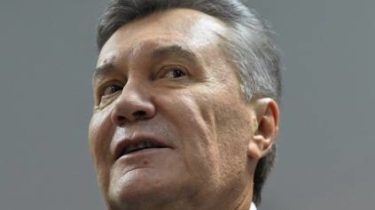 The court in the case of treason of ex-President Viktor Yanukovych called a former permanent representative of Ukraine to the UN Yuriy Sergeyev.
About it reported a press-the Secretary of GPU Larisa Sargan.
According to her, there will be a meeting on 15 August, scheduled to start at 10:00 a.m., a witness called on 14:00.
See also:
The fact that Yanukovych, a Russian court arrested in absentia Ukrainian Prosecutor and investigator
"Please your honors, in addition to the assigned courtroom on a specified date, also assign the hearing in the case against Yanukovych on August 15, 2017 with the aim of questioning the witness Yury Sergeyev and date to change the order of presentation of evidence. In case of approval of the application to call at the hearing, which will take place on 15 August 2017, the witness Sergeyev Yuri Anatolyevich. After completion of the interrogation of the witness Sergeeva to continue the study of evidence in accordance with the defined order", – wrote Gar quote of the Prosecutor Ruslan Kravchenko.
The next hearing in the case of "Ukraine against Yanukovych" will be held August 10 at 10:00. In addition, the court ordered additional…
Published by Larisa Sargan on August 3, 2017
The prosecution added that requesting an additional meeting, due to the fact that the witness Sergeev will be located on the territory of Ukraine only on August 15.
The following three meetings, in case Yanukovych will be held on 17th, 23rd and 31st August.
In November 2016, the Prosecutor General Yuri Lutsenko announced the suspicion of treason Viktor Yanukovych in the premises of Sviatoshynsky court, being in direct contact with the Rostov court, where the President is a fugitive. Yanukovych is accused of committing treason, aiding the authorities of the Russian Federation, intentional acts committed for the purpose of modifying the boundaries of the territory and the state border of Ukraine.
Recall, July 6, the lawyers of Viktor Yanukovych, Vitaliy Serdyuk and Igor Fedorenko announced their withdrawal from the trial in the Obolon district court of Kyiv. The defenders of the fugitive stressed that July 6 will not participate in the hearing because Yanukovych wrote a statement that waives their services.
As previously reported, Obolon court of Kyiv allowed the special court proceedings in the case of Viktor Yanukovych. This resolution provided for the absence of Yanukovych, who would have to go with the court on the Skype connection. In absentia proceedings, the prosecutors insisted.
Videopo charges of treason Yanukovych appointed a public defender
TSN. 19:30
10 Jul, 20:24
Facebook

1

VKontakte

Google+

Twitter
Comments
comments