The foreign Ministry responded to the desire of Poland to place in the passports image from Lviv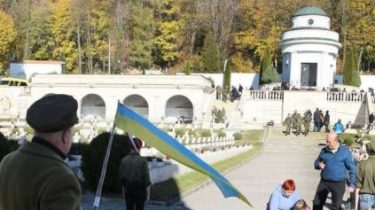 The foreign Ministry of Ukraine responded to the intention of Poland to place on the pages of your new passport image of Polish military graves in the Lychakiv cemetery.
This is stated in the press service of the institution.
"Ukraine considers such intentions as an unfriendly act, which adversely affects the development of a strategic Polish-Ukrainian partnership", – said the Ministry.
In particular, 7 Aug summoned to the foreign Ministry to the Ambassador of Poland in Ukraine Jan Pieklo was handed a note of protest about the intentions of the Ministry of interior and administration of the Republic of Poland to place on the pages of the new passport of Poland the image of the chapel, rotunda, located on the territory of military graves in the cemetery in Lviv.
"Evaluation of historical events is the business of historians. Ukraine opposes the politicization of certain historical facts which would harm the development of mutually beneficial strategic partnership between Ukraine and the Republic of Poland" – said the Agency.
See also:
Poland's foreign Ministry accuses Russia of provoking the conflict in the Donbas
Recall that in 2018, the 100th anniversary of the independence of Poland will issue a passport in a new design. In its pages will appear and the image from Lviv – a Polish military memorial Eaglets.
The Ministry of internal Affairs of Poland notes that in the pages of the document will be important for the history of the country image of historical figures, motifs, and places. This writes Wyborcza.pl. In General, the passport will be 26 graphic images. Half of them have been approved. Among them is the memorial of Eaglets in Lviv. Still half of the images needs to elect the poles during the online voting.
Note that the Memorial Eaglets are buried the members of the fighting against the Western-Ukrainian national Republic (1918-1919) against the Bolsheviks (1920). The complex is located on the territory of Lychakiv cemetery.
Comments
comments