In the Donbass, turned over and blew up the BMP fighters, there are dead – intelligence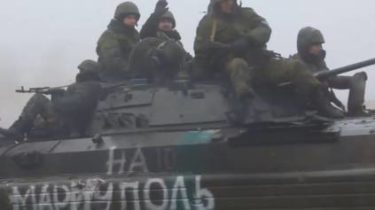 On the occupied territory of Donetsk region the driver of the militants turned the BMP, resulting in detonated munitions.
About it reported in a press-centre GU of the Ministry of defense intelligence of Ukraine.
"At the time of nomination to the forefront for the implementation of shelling of ATO forces one of the units has 3 separate infantry brigade (Gorlovka) 1 AK (Donetsk) of the armed forces of the mechanic-driver lost control, which resulted in a rollover and fire, infantry combat vehicles", – stated in the message.
The result of the detonation of ammunition, two people were killed and three were seriously injured.
In addition, according to intelligence in our part of the countryside near the town of kadievka (former Stakhanov – approx.ed.) conducted classes in practical shooting according to the decision command 4 separate motorized rifle brigade (Alchevsk) 2 AK (Lugansk) of the armed forces.
Because of the violation of the rules of the organization of the exercises was fired several private homes, civilian sustained a bullet wound, but the treatment of the population to the so-called "law enforcement" remained without attention.
We will remind, earlier in the Donbas killed mercenaries from Russia, which hit a mine, dressed in civilian clothes and left in the forest. The military command assures that the Russians did not serve in the army "LNR/DNR".
Comments
comments