The militants detained the OSCE mission in Picotah and wounded Ukrainian military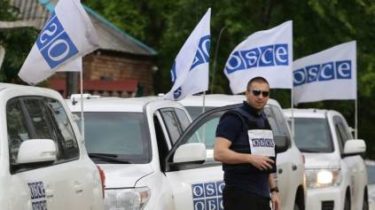 Today, August 10, militants in the village Pikuz Donetsk region detained a group of OSCE SMM and threatened to remove the video from the drone. This was reported by the observers on his Twitter page.
In the press center of staff ATO added that the armed obstacles to the members of the monitoring terrorists organize for the second time in two days. In the morning the personnel of the APU started work on the survey of the road on the territory controlled by Ukraine, which was scheduled to travel Alexander hug from the settlement Pikuz, that in ORDO, to Mariupol.
See also:
The OSCE has documented the doubling of attacks in the Donbass
"The militants started shelling the positions of the AFU with small arms and with the involvement of snipers, during which a wounded soldier APU, which conducted a survey of the specified section of the road regarding existence of explosive devices. It should be noted that the clearance work was carried out at the existing security assurances from NZF ORDO, which was officially handed over to the Russian side of the JCCC," – said in the headquarters.
THE UKRAINIAN SIDE OF THE JCCC: ORDO ILLEGAL ARMED GROUPS CONTINUE ARMED PROVOCATIONS AND INTERFERE WITH THE ACTIVITIES OF THE OSCE SMM. Ukrainian sides…
Published by the Press center of the ATO headquarters 10 Aug 2017
To clarify the situation with the mines on the roads to travel to Mariupol, observers launched the drone. Near the village Pikuz drone fired at the terrorists.
"Alexander hug and the staff of the OSCE SMM was unable to travel to Mariupol along the planned route. According to information received from the OSCE, 10 August from NZF ORDO no action on clearance of a specified road section is not carried out", – stated in the message.
But the OSCE said that in Pikuach members of the organization of the militants was detained for 20 minutes and threatened to pick up the video from the drone.
Subsequently they were not allowed in "DPR" – controlled Novoazovsk.
After the UAV was fired, so when the "DNR" detained SMM for 20 min in Pcusa, threatening to confiscate the video from the UAV. Violation of the Minsk pic.twitter.com/UQta285ZuF
— OSCE SMM Ukraine (@OSCE_SMM) 10 Aug 2017
The SMM is again not allowed in pgcont. T. SV. "DNR" Novoazovsk, close uncontrolled border with Russia. Another violation of Minsk #supportSMM pic.twitter.com/9Fqzw3J6cd
— OSCE SMM Ukraine (@OSCE_SMM) 10 Aug 2017
We will remind, recently the militants of illegal armed formation "DNR" detained for more than seven hours kept the driver and the truck with the equipment for cameras of the OSCE. The incident occurred in the occupied village of olenivka, Donetsk region. The OSCE stressed that the actions of "DPR" hindered the freedom of movement of SMM.
Priznaytes to TSN from Viber that atribuite
nivalis news just the messenger!
Comments
comments