"Looking for another job": Groisman reacted sharply to neglectful officials at the meeting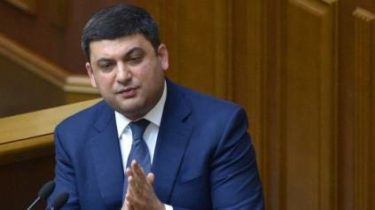 Prime Minister Volodymyr Groysman was recommended to the Deputy Chairman of Chernihiv regional state administration Leonid Sahnevich to write the application on dismissal because he attentively listened to the head of the government.
The incident occurred during the all-Ukrainian selector meeting on preparation for the new school year in the city of Dnepr, reports UKRINFORM.
In particular, during a speech Groisman suddenly asked to Chernigov and asked the representative of the Chernihiv regional state administration, who was the first Deputy Governor Leonid sakhnevich, with a request to repeat what I said last.
See also:
The Minister of Reva and crying. As in the Network laugh at the statement of the head of the Ministry of social policy on the appetite of Ukrainians
However sakhnevich noted that the Prime Minister was told about the August conference.
"You did not listen, said the Prime Minister. The Prime Minister talked about the national economy. I think You need to make a decision and find yourself another job. Did you hear me? The head of the administration write a letter of resignation and look for another job, I'm not going to work", – was indignant Groisman.
He added: "I'm talking about the national economy, I'm talking about kindergarten children, you sit, lyasy sharpen".
After trying the first Deputy Chairman of Chernihiv regional state administration to apologize, the Prime Minister said: "will Apologize to his wife if, God forbid, do something wrong, your heart must ache, not to apologize to me."
Groisman said that did not fire first Deputy Chairman of Chernihiv regional state administration, which focused on education and encouraged him to consider the question of whether to stay in this position.
We will remind, earlier Prime Minister Vladimir Groisman has criticized the city head of Lviv Andrey Sadovy the inability to solve the problem of accumulation of garbage in the city. "What you still help? The earth gave it to you, the money in the accounts you have design documents you had agreed with the French, I agreed… What else should I do to make you put things in order in your city?" – Groisman turned to the camera with rhetorical questions.
Priznaytes to TSN from Viber that atribuite
nivalis news just the messenger!
Comments
comments