"I wish the staff of Life will never find work": how users reacted to the closure of the channel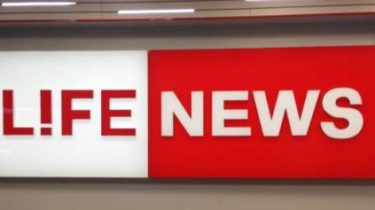 August 18 – last day of the Russian propaganda TV channel Life, there is only the website and other projects.
The decision to cease broadcasting was made by shareholders a month ago, and the editorial Board already announced the dissolution of the television division of the project. The job reductions will lose dozens of people.
Video online has exploded photoshopped pics on journalists Lifenews
Curiosities
February 13, 2015, 09:56
Facebook

1

VKontakte

Google+

Twitter

Viber
Before closing the TV channel, the Russian opposition leader Alexei Navalny could funny trick of propagandists and not even 10 thousand rubles this money. True, Life owes him 40 thousand. Because of this, users joke that paying the Bulk of the channel ran out of money.
See also:
"It was very funny": the Bulk of the money sent Lifenews "compromising" themselves
In General, the closure of Life caused a serious stir on social networks. The Internet users want the dismissed promoters no longer find work, so happy that Russia has fewer means to create fakes and say they won't miss the channel.
The biggest fakes and scandals of the channel, which has sunk into Oblivion, read on the TSN website.ia.
Goodbye @lifenews_ru!
We won't miss you!#russianpropaganda pic.twitter.com/vHi9Fd5jWX
— Kateryna_Kruk (@Kateryna_Kruk) 18 Aug 2017
Infopolicy Kremlin LifeNews TV broadcasting ceases – no money! Interesting… as now wool know about the benefits of anti-Russian sanctions? pic.twitter.com/o556tOVgt3
— Terrible Bendera (@Realuran) 18 Aug 2017
LifeNews zakryvaetsya – marriage finansowania. Ocrm that fact, that Russia really all duzhe rotten, wants hocheTsTsa functions …
Posted by Nazar Prihodko 18 August 2017 R.
The market for prostitutes in Moscow is waiting for the completion of a large workforce — about its closure and the dismissal of all employees have declared to TV channel LifeNews.
— Uncle Shu (@Shulz) 18 Aug 2017
Lol, Life @lifenews_ru stopped broadcasting on TV and cut 90 employees.
Apparently that was my last money @navalny
— DJ_Russia (@DJ_Russia) 19 Aug 2017
A couple of days after the closing of the #LifeNews pic.twitter.com/ddRiw3LPrY
— Roman Kuznetsov(@RomanDeutscher) 18 Aug 2017
Today is a good day for television. Very. After the 18th will be a bit cleaner, thanks!#life #lifenews @LIFE
— Onton (@Stovskiy) 18 Aug 2017
Today is the last day of broadcasting of the TV channel Lifenews! (loud and prolonged applause)) ). Slightly less shit Bud…
Posted Alexem Golobutskiy 18 August 2017 R.
The lifenews TV channel ceases to exist – good news for HR-ing market escort, freed a lot of workers
— Krus (@IamKrus) 18 Aug 2017
a good sign – bad things from the dictatorship https://t.co/py1jGucmyk
— Oleg Panfilov (@OlegPanfilov7) 18 Aug 2017
Priznaytes to TSN from Viber that atribuite
nivalis news just the messenger!
Comments
comments