In Ukraine starts an innovative service Cashinsky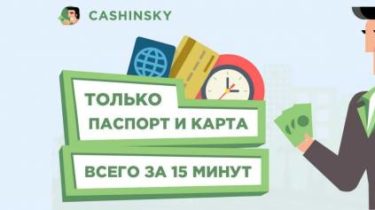 Company news
The founders of the project set an ambitious target: to create a reliable assistant and friend, who always can help in any moment when the necessary funds. Everyone there are situations when you urgently need it today to buy, pay for the product/service, but unfortunately funds are lacking and ask for help. It is worth noting an important educational component of the service. The founders believe that financial products for audiences with low incomes should be accompanied by mechanisms for the development of financial literacy, trust and control discipline.
One such arrangement is gamification. Available for and effective communication with customers in the system is represented by a character named Cache. It communicates in the style of "best friend" gives you tips and shares with the audience useful tips, improving financial literacy and assisting to build a good credit history. The cache tells how to bring the help received how to save money on fares and how to properly manage funds.

Virtual tour guide that leads the client and tells you which before him there are new opportunities which situations can occur in life and when he can help. Depending on client behavior, he relates a newbie with grades of loyalty: an acquaintance, friend, best friend. The client with each subsequent treatment offer more favorable terms. For example, the amount of microcredit for the beginner up to 3 000 UAH, "best friend" will be able to ask for help in the amount of 40 000 UAH. for up to 30 days.
If you urgently need money to pay the utilities, repairs, very favorite thing or other needs, you can apply for help to his friend Cashinsky. The service does not request information on income and financial guarantees. The money goes to a Bank card within half an hour, after confirmation of the application. This is the optimal solution when the Bank refuses the loan because of the lack of official income or guarantors when there is no time to collect a large set of documents.
After the first acquaintance with the Cache, the client will be able to get financial assistance in just two clicks using your personal account in the service on any device (mobile phone, tablet, computer).
The service provides a transparent framework for the return. When making treatment Cashinsky, the customer sees the entire amount to be repaid and can be sure that there are no hidden fees and charges. If necessary, the client may extend the term of the microcredit independently from your personal account.
Priznaytes to TSN from Viber that atribuite
nivalis news just the messenger!
Comments
comments