At gas stations the price of gas reached 16 USD. Will be even more expensive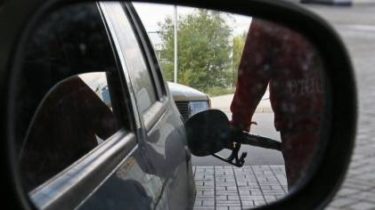 On the Ukrainian gas stations over the past days the price of the scarce fuels have increased by almost UAH today, 23 August, the average cost is 15,32 UAH per liter. Minimum – 14,3 UAH and a maximum of 16 UAH.
Market experts predict that in the next weekend (many Ukrainians already from tomorrow will be as many as four in a row – because of the Independence Day celebration) the price of a liter of petrol could rise to 17-18 UAH. This writes OilNews.
The main factor of rise in price of petrol, analysts of "Consulting group A-95" is the shortage of resource. Analyst "A-95" Artem Kuyun believes that the crisis faced by gas suppliers, was much stronger than expected.
"And it's not so much the assessment of scarce volumes, as in the impossibility of this shortage close: Ukraine is desperately short of wagons, and those that have, "Ukrzaliznytsya" is not able to use effectively. The most acute shortage of gas at the pump felt in the South and West of the country. No gas for the individual stations and major networks," said Kuyun.
Closer to the middle of September, the situation should stabilizein Ukraine will deliver gas in the required quantity and experts predict a fall in prices.
Recall that in early June it was reported that the SBU exposed the majority of importers of fuel and lubricants and liquefied gas in large-scale financial fraud. About it writes "Economic truth". In criminal proceedings, in which the SBU has blocked the accounts and resources of many importers of liquefied natural gas, 31 involved a legal person, including five importers of liquefied natural gas and two forwarders.
The cost of petrol at filling stations 23/22 August 2017, UAH/l:
The operator
Price
The difference
AMIC
15,28
+0,42
Shell
15,60
+0,59
SOCAR
15,99
+1,00
SUN OIL
16,10
+1,55
UPG
15,40
+1,20
WOG
15,99
+0,50
Avtotrans
14,58
+0,50
Parallel
15,99
+1,00
Avias
14,34
+0,91
BRSM-Nafta
Of 15.47
Up +0.69
KLO
16,49
+1,05
Bars 2000
15,50
+0,60
Avantazh
14,35
0,00
Rod Nick
15,50
+1,00
Marshal
15,80
+0,85
East
15,35
+1,00
Hope
14,99
+1,00
Folk
14,90
+0,60
OKKO
15,95
+0,56
Ukrgasdobycha
14,99
+1,50
Tatneft-AZS-Ukraine
15,15
+0,93
Ukrnafta
Of 14.31
+0,82
ZOG
15,99
+0,50
Mango
14,99
+0,73
The averageI Ceon in Ukraine
15,32
+0,76
Priznaytes to TSN from Viber that atribuite
nivalis news just the messenger!
Comments
comments