"Unpleasant story" or "provocation". In Bulgaria, during the festival, hung out a flag of "DNR"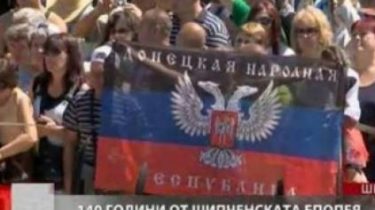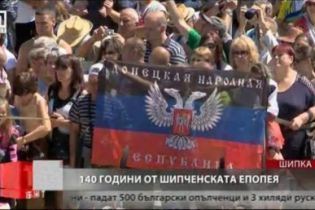 In Bulgaria, during the celebration of the 140th anniversary of the battle for mount SHIPKA unknown unfurled the flag of "DNR".
The appropriate frame is appeared in the Saturday report of the local TV channel BNT and dispersed to the media.
Ambassador of Ukraine to Bulgaria Mykola Baltazhi expressed outrage at the incident, the press service of the Embassy.
"Deeply concerned and outraged by the flag of the terrorist and criminal "DNR" on the SHIPKA pass. Consider this, among other things, as a mockery of the memory of Ukrainian soldiers and these militias, which brought freedom for the Bulgarian land," he said.
Besides Baltazhi called on Bulgarian authorities to investigate "this dirty provocation".
In turn, the foreign Minister of Bulgaria, Catherine of Zaharia in response stressed that the incident is "an unpleasant story but it would have resulted in scandal, if the flag unfurled some public authority or public servant".
"It's a really unpleasant story. We have a free state, everyone has the right to Express their own opinions. But this Republic, as it is written on the flag, not recognized by anyone. The most annoying thing is that the flag of the unrecognized Republic, which in the near future will remain a symbol of the violations of law and threats to stability and peace in Europe, was carried on the celebrations on the occasion of the anniversary of the battle for freedom and democracy," she said.
Separately Zahariev added that "we are talking about citizens who have the right to freedom of expression", which she personally supports.
Earlier, in the European Parliament in Brussels hosted an event in support of the militants of terrorist organizations "DNR" and "LNR". It was organized by the MEP from Italy Eleonora Forenza.
She wrote on Facebook that the participants "reaffirmed their solidarity with the people of Donbass and their struggle against fascism, for peace."
Priznaytes to TSN from Viber that atribuite
nivalis news just the messenger!
Comments
comments