New Zealand beekeeper spent 30 seconds on the hive bare ass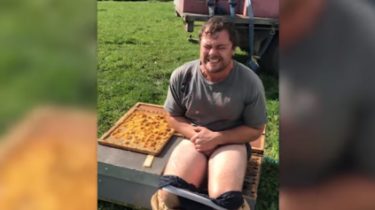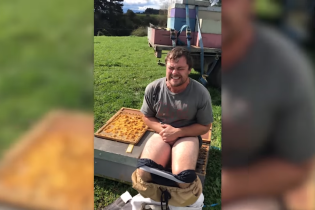 The beekeeper from New Zealand won the bet on 1,000 new Zealand dollars (£550), after spending 30 seconds on the hive his pants down.
27-year-old Jamie Granger ventured to answer the call of his friend Aurel, Braguti August 14, on a farm near Matamata, reports Metro.
Before doing this trick tried to execute another of their friend, however, he was able to sit on the hive, maintaining the insect bites, just 19 seconds.
See also:
Failed prank in the United States: a pregnant woman killed her husband during the filming of the video for YouTube
"Did it hurt? Well, like you imagine it to be. It was frustrating, but kinda funny. Can you imagine the feeling when your ass is swollen", – told later by Granger.
According to Aurel, Braguti, in the company friends-beekeepers constantly joke with each other and often argue. In particular, recently, one of them on a bet ate a slug.
They, of course, strongly do not recommend anyone try to repeat the trick with bees.
Earlier, the British bloggers, Jay Swonger and Rommel Henry (or Duo "TGFBro"), built his coffin and dug the grave in his garden to 24 hours to bury myself alive.
Priznaytes to TSN from Viber that atribuite
nivalis news just the messenger!
Comments
comments