In Kiev has restricted traffic on several streets due to velosorevnovaniya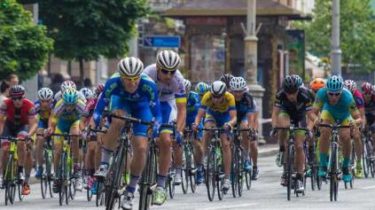 Kyiv city state administration decided on 3 September to limit motor transport movement on several streets in the Svyatoshinsky district for Cycling competitions.
This is stated in the message of the Kyiv city administration, transfer "Ukrainian news".
"On Sunday, September 3, from 7:00 to 15:00 temporarily restrict the movement of all types of vehicles during the holding of the Fourth international competitions in Cycling "Kyivska Sotka", – is told in it.
So, limit traffic on the route: vul. Nikolay Ushakov, 2 (campus) (start) – vul. Nikolaya Ushakova St. – Pobedy – Brest-Lithuanian highway – S. Park (Lesnaya str) – str (St Independence, Soborna str) – Bucha (Vokzalnaya str. Yablonska) – PGT Vorzel (ul Jablonska, street 1 May) – the village mykhailivka-Rubezhivka (School street, St. Kiev, St. Zhytomyrska street hamlet street East) – Forest S. (Brest-Lithuanian highway) – Luhansk – hop S. – S. Kozyntsi – SMT Nemeshaevo (str Michurin) – PGT Vorzel (street birch street Kotlyarevskogo, Krylov St., St. Tulip St. Strazhesko, Kurortnaya str., Shevchenko str, str Yablonska) – Bucha (ul Jablonska, St. Vokzalnaya) – Irpin (street Cathedral, St. Happy St. University) – road P-30 – Kiev (Generala Naumova, Akademika Bulahovskogo, Autumn street, Autumn lane, street of Academician Efremov, St. Nikolay Ushakov St. feodory Pushinoy, Avenue of Academician Palladin, prospect Peremogy, vul. Sholudenko, vul. Borschagovskaya street Academician Yangelya street Polytechnic (KPI case 18) (finish).
In the work of land passenger transport on a route (within Kiev) will be amended.
Priznaytes to TSN from Viber that atribuite
nivalis news just the messenger!
Comments
comments