Autumn reforms. The Verkhovna Rada decided on the first question, who will investigate after the holidays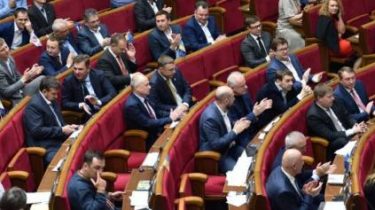 September 5 will be the first after the holidays plenary session of the Verkhovna Radaand the heads of the factions under the chairmanship of the speaker Andriy Parubiy decided on the agenda.
The speaker announced that this fall will modify commenced in the spring of reforms that waited until parliamentarians return to work.
"This fall must pass under the sign of reforms. Last spring, we have a list of several important reforms. And we have the chance and responsibility to each of the reforms considered in the hall. Among the most important – reform of education, medicine, judicial reform, pension reform and the reform of Parliament. These five reforms I would call parity this fall for its consideration", – said paruby.
To start the head of the Parliament proposed with education reform. However, says rassmotrenie will not be quick, because all the bills have a lot of edits. In particular, in the education bill introduced 1700 amendments, of which 600 were rejected. The law on medicine has 893 revision, judicial reform – 5000 edits, pension – 2100. Therefore, warns the speaker, consideration will not be quick and will probably take more than one day for each bill.
In addition, the Parliament should proceed to the solution of personnel questions. Namely, the appointment of the members of the audit chamber, the Commissioner for human rights, members of the CEC and constitutional court judges.
Parliamentarians agreed to start the plenary with education, however, further issues of disagreement. As said Parubiy, there are proposals on Thursday to consider or medical, or judicial reform.
In addition BPP considers it necessary from the first day of work to undertake to reform the court and pension reform, as well as to create a Ministry of veterans Affairs and to create a memorial Museum complex of the Heavenly hundred Heroes. People front, also designated, proposed at the state level to support start-UPS, to undertake the construction of roads and adhere to a course aimed at membership in the EU and NATO. The leader of the Radical party noted that it is not necessary to forget about problems of the earth and to see, finally, the law on the reintegration of Donbass. The opposition bloc insisted that it is necessary to undertake the restoration of the territorial integrity of Ukraine and to involve Parliament, because the Minsk agreements this is not enough. And the leader of the Batkivshchyna Yulia Tymoshenko has said that all reforms of the current government are leading the country into the abyss, so it is necessary to consider separately the laws, and to develop a fundamentally different strategy for the development of the state.
Videogum's new education reform introduced a number of innovations in inclusive education
TSN. Wounds
1 Sep, 10:23
Facebook

VKontakte

Google+

Twitter

Viber
Priznaytes to TSN from Viber that atribuite
nivalis news just the messenger!
Comments
comments