Groisman said when gas prices will drop significantly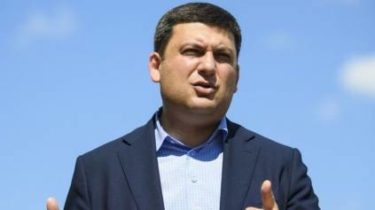 Prime Minister Vladimir Groisman said that the price of natural gas will decline significantly after an increase in production to self-sufficiency that will happen before 2020.
He said this at a government meeting, UNIAN reports.
"When will we become a country that will be able to provide for their needs. In 2020, we can move on to a completely different pricing for Ukrainian gas. It will be much cheaper than it is now. It will be cheaper a month or two, and once and forever," he said.
Groysman stressed that before 2020 Ukraine will be able to achieve the levels of gas production, which will allow to cover the needs of municipal power and the public.
"This will allow you to resolve pricing and make the price cheaper. It will be systematically, for decades to come. We will be fully independent in the issue of gas supply to municipal power and the public", – said the head of government.
See also:
The price of gas: why the more expensive fuel, who is to blame and what will happen next
We will remind, Poroshenko promised reduction of prices on autogas. "I want to emphasize that we have carried out the necessary consultations with the government, I spoke with the Prime Minister, we are absolutely clear and agreed approaches. Position one: the anti-monopoly Committee should take all measures to prevent monopoly and growth rates, checked all gas suppliers. And if found to be the fact of high profits, those who made it will be released, and the situation will return to normal", – assured Poroshenko.
The President stated the need to establish production of liquefied gas in Ukraine. He gave relevant instructions to ministries, manufacturers to establish their own production of liquefied natural gas. According to him, the locked volumes with Russia should be compensated by a Ukrainian manufacturer.
Poroshenko stressed that the main supplier of liquefied natural gas were Russia, but in the context of a hybrid war, it was decided to stop or restrict the supply, just as has happened with natural gas.
Priznaytes to TSN from Viber that atribuite
nivalis news just the messenger!
Comments
comments