Poroshenko spoke about the challenges for Ukraine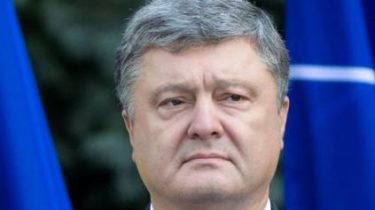 The President of Ukraine Petro Poroshenko spoke about the challenges for Ukraine.
About this Poroshenko said during the annual address to the Ukrainian Parliament on the internal and external situation of the country.
"About a year, the country will plunge into election campaign. In the spring of 2019 presidential elections in autumn of the same year parliamentary. This means that we have a year to actively work on reforms," Poroshenko said.
In addition, the President spoke about the resistance to change in the country.
"The farther a country moves along the road of change, the greater the resistance of various interest groups, resourcesavesize the minority in the form of a corrupt bureaucracy and weakened, but still quite strong oligarchy, a very large number dependent on this group of people. Increasingly revanchist initiatives under the slogan "It didn't work." It is proposed to abolish reforms and innovations to take control of the newly created institutions. Three years ago, I personally and most of you thought that reforms want. In fact it is not. Opponents of the change are everywhere. A lot of them rossos in the various branches of government and in the upscale business office", – said Poroshenko.
According to Poroshenko, in each system – law enforcement, educational, medical, and similar top and down there are large influential groups are satisfied with the status quo.
"If we are talking about systems that emphasize resistance they also the system. Thirdly, one of the most dangerous challenges is populism. Populists like real cooks whipped cream on the wave objective of grievances. Decommunization did not destroy demand for Communist ideology of class hatred… moreover, this demand increased as a result of socio-economic crisis and the deepening stratification between rich and poor. Liberated by the Communists electoral niche vacant for long. It is very quickly absorbed several parties from among the former participants of the Pro-European coalition," Poroshenko added.
Poroshenko said that "over their headquarters, blue and yellow flags, and the social slogans borrowed from the archives of the Communists and of the Progressive socialist party. In the role of defenders of the people they look convincing until you look in their electronic Declaration".
The President also said that the freshest in the Freedom House rating populists called a double risk of a global democracy with autocrats. "Our opposite – anarchy and the ataman… Particularly of this issue has taken in the past and the beginning of this year. Now we have removed its severity, but to completely eliminate from the agenda have not succeeded. Moreover, in this area, the aggressor felt the opportunity to destabilize the situation vseredyni of Ukraine", – said Poroshenko.
We will remind, Poroshenko said that Ukraine has already chosen from the deep, deadly economic and political precipice, but over it hangs the "evil Horde".
Priznaytes to TSN from Viber that atribuite
nivalis news just the messenger!
Comments
comments