How to find a job in the fall. The most popular jobs and valuable advice to job seekers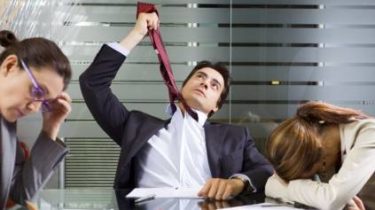 Traditionally begins in the autumn business season, which runs until mid-November. Companies are starting new projects, run the factories, therefore the labor market appears a lot of new jobs.
See also:
State statistics Committee: more than just Ukraine earn aviators, and less – postmen
In addition, now starts the active period of job search by students who have already started learning and adjusting to the new schedule to determine how much time you can spend on a part-time job.
Videoconsulting for career issues, spoke about the employment of people approaching retirement age
Snidanok 1+1
July 4, 10:10
Facebook

VKontakte

Google+

Twitter

Viber
Dnia talked with representatives of two of the largest Internet sites for job search in Ukraine, who told who now most need employers, jobs is the most paid and what kind of work can claim to be students.
WORKER HOLD ON THE TOP
Active growth of vacancies starts somewhere from 10-20 September, said HR expert portal Rabota.ua Tatyana Pashkina.
In particular, the speed will gradually increase five traditional trade sectors: production (laborers, porters, engineers, mechanics), trade (sales consultants, sales representatives, cashier, merchandiser, Manager of the store), sales (sales managers, sales reps) , administrative personnel (messengers, drivers, secretaries) and the beginning of a career for students.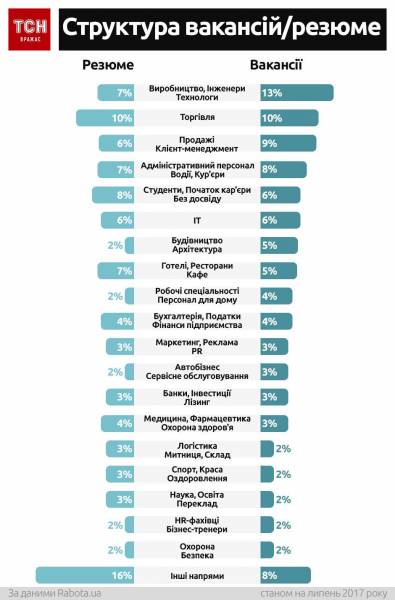 Dnia
Manufacture here not by chance is in the first place. "Now is gradually increasing Ukraine's economy and we predict that this fall will open new businesses in industry and production. People are no longer afraid of war, began to invest more money in development of their business. It immediately reacted to the labor market", – said the Director for development of the site Work.ua Sergei Marchenko.
Now Ukraine is actively visited by foreign enterprises and those that have been, continue to hunt for work. "In Lviv, operates three companies that make seat covers BMW, Mercedes. There students and seniors bus dumped from the surrounding villages and trained in this way the skin," says Tatyana Pashkina, adding that in addition, the Ukrainian factories produced Prada Rereseved and Hugo Boss.
See also:
Ukrainian women are not allowed 450 professions and any work night
However, seamstresses – not the only one who gets the job done, thanks to foreign investors. According to forecasts by Sergei Marchenko, the planned opening of the new enterprise will be associated with the construction industry and high-tech manufacturing. Moreover, in the Transcarpathian and Lviv regions in recent years has opened a lot of production in the engineering industry, and their owners are already thinking about the opening of automobile factories.
By the way, these predictions have become reality for Ukraine. At the end of August in Lviv region was inaugurated plant of the French group Nexans, which manufactures electrical cables for BMW.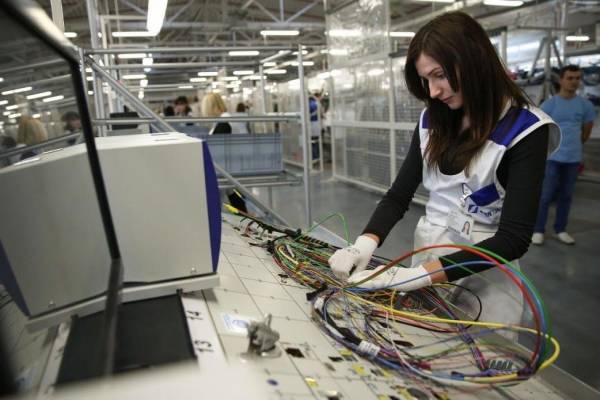 The website of the President of Ukraine
According to Tatyana Pushkinoj, the five most popular groups of positions in production: worker, light industry, electrical engineer, builders and production management. And all of these groups, in addition to construction, the supply of jobs exceeds demand.
The development of the two sectors – industry and production, as well as construction and architecture, which show the greatest growth in 2016, entail the development of other industries, said Sergei Marchenko.
"This is the core of the industry. If there is growth, then supporting industries, e.g., advertising, sales and the like, is also tightened and start earning. This suggests that the economic growth that we see now will be sustainable," – said Marchenko.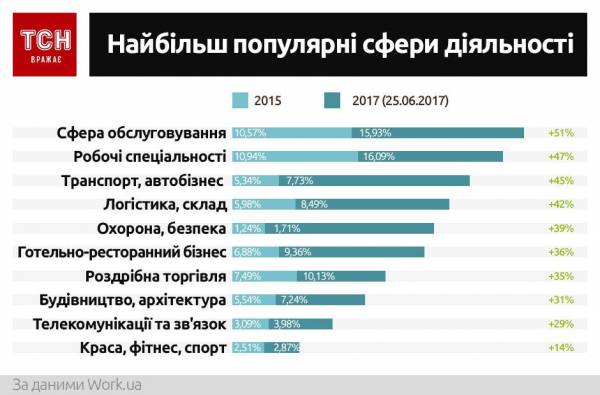 Dnia
According to Sergei, the sphere of production is the second most popular. The first service sector, in third place – the transport and auto business, and then go to logistics and safety and security.
At the same time, the drop in popularity shown by the insurance industry, law and top management.
SALARIES
Dynamics of vacancies of working professions is striking, says Tatyana Pashkina. Over the past 1.5 years they have grown in 2,5 times. The problem of the industry is that not many Ukrainians want to work with your hands, but if and then for big money than the employer. Therefore, jobs in this field much more than job seekers, and, consequently, rising wages.
"There was such a case. Looking for a handyman to 7 thousand UAH. As a result, after few weeks of hopeless searching, we found only 11 thousand UAH. This is because a lot of vacancies, and want a little. And to someone adequate to snatch, it is necessary to bargain with and attract money" , – said Pashkina, noting that carpenters, plumbers and welders are now offering salaries of about 9-12 thousand.
According to Sergei Marchenko, among the most popular job vacancies – movers (the average salary of 5 thousand UAH), unskilled workers (9, 2 thousand UAH), packers (6, 7 thousand UAH), forklift drivers (6.6 thousand UAH).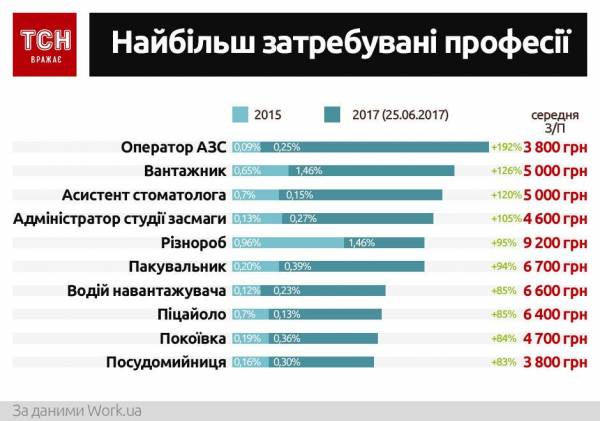 Dnia
At the same time provided knowledge of the English language the applicant has the opportunity to choose a better paying job. In particular, it is offered to foreign enterprises in the sphere of production. Tatyana Pashkina told about the case when a technical recruiter was looking for young engineers with knowledge of English salary on probation for € 600, and then 1000 Euro. And this is almost a programmer's salary.
Knowledge of English also opens the way to international companies working in other spheres. This can be the company's FMCG (eng. fast moving consumer goods – consumer goods, fast turnover), banks or insurance companies.
Such work has its bonuses: the ability to work in a more interesting international culture, to study abroad and participate in exchange of experience with the main office of the company, which may be located, for example, somewhere in Hanover.
"BOOM" IN THE MARKET OF IT COMES TO NAUGHT
A huge "boom" of jobs in the IT market, which occurred a few years ago, now almost gone. That is, the market continues to grow slowly, but the demand for IT professionals has stabilized.
"It used to be a large number of vacancies from companies that thought can afford the increase. They gained a large number of Junior (eng. Junior Developer – Junior programmer). And now most of the programmers we have is the middle (eng. Middle – middle) and the Siniora (eng. Senior – lead programmer). If it's middle and Siniora, their, first, do not need so much, and secondly, they are not as fluid, " explained Tatyana Pashkina.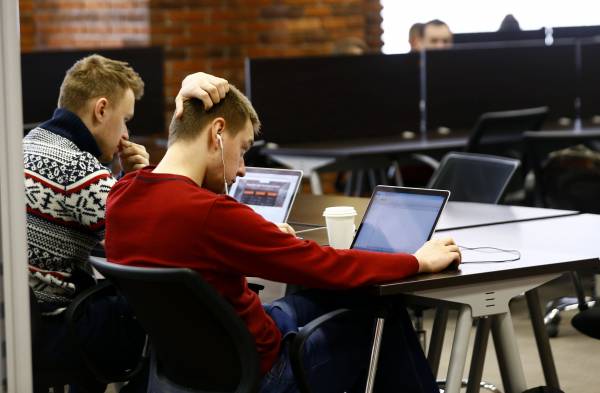 Reuters
Also the IT market of vacancies has changed structurally. According to Tatiana Pashkin, the most popular suggestions in this area now: web development (31%), system administration (10%), design (8%), technical support (6%) and programming (5%). At that time, as before, a large share of jobs held design and testing, which is now generally gone out the top five.
ATTRACTIVE WORK/SLAVERY ABROAD
After the introduction bezveza applicants began to more actively consider a job abroad. "Took a train to Przemysl, spent 400 UAH, found an employer, got a job, came back, got a work visa – and here's the employment in Europe and the salary 15-17 thousand UAH", – says Tatyana Pashkina.
However, the majority of job opportunities offered abroad is hard work in manufacturing, on the Assembly line or harvest. That is 10-12-hour working day six days a week. At the same time is a real opportunity to earn up to 30-35 thousand per month.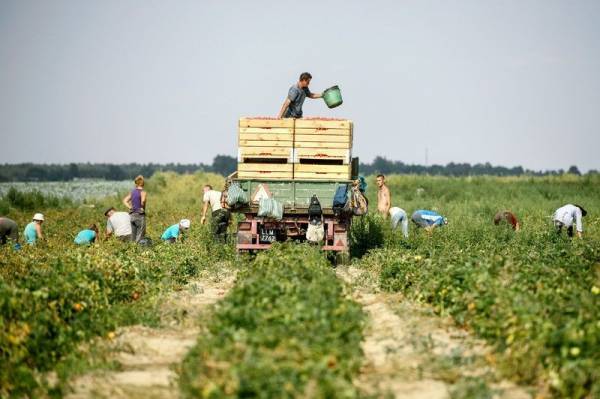 photo EPA/UPG
Skilled workers – carpenters, Metalworkers and welders can earn 20-30 thousand UAH in Poland and 30-70 thous in Germany and England.
"If you need to pay your child's tuition, to make repairs, buy a car, an apartment, marry, or something else, you know it will be six months, "slavery," said Pashkina.
See also:
Average salary of Ukrainians in Europe reaches EUR 1000
Only Ukrainians willing to accept Poland, the Czech Republic, Hungary. Also nothing against the Ukrainians is not Germany. In England and France, with fewer vacancies. Vacancies also declined in Italy because of the debased economic situation. Israel is actively involved in the Ukrainian builders, and Georgia, Azerbaijan, Kazakhstan, Belarus and the Baltic countries outweighs the Ukrainian pharmacists.
Skilled labor – doctors, engineers and programmers – are offered less frequently, but such jobs are also there. A doctor subject to language skills and the exam to obtain qualification receives a selection abroad: 20-30 thousand UAH in the Czech Republic, 40-70 thous in Germany, 75 thousand UAH – in Libya, 104 thousand UAH in Oman.
At the same time, the Europeans came up with their "grey" schemes to encourage doctors to work. "You just formalize as an Intern, but allow you to work as a doctor. After some time, you confirm the qualifications and can work officially," – said Dnia Sergei, who is considering options to work abroad.
WORK FOR STUDENTS
The number of job offers for students now has increased significantly. Even this summer, compared to last, proposals were 1.5 times more, and in September we just go "into space", said Tatyana Pashkina. After all, for new projects, employers are often looking for young and active.
Typically, there are 3-5 universal of vacancies on offer for students. It's jobs that allow you to combine study with work. It sales managers, administrators, operators, contact center, sales consultants, reservation agents with knowledge of the English language.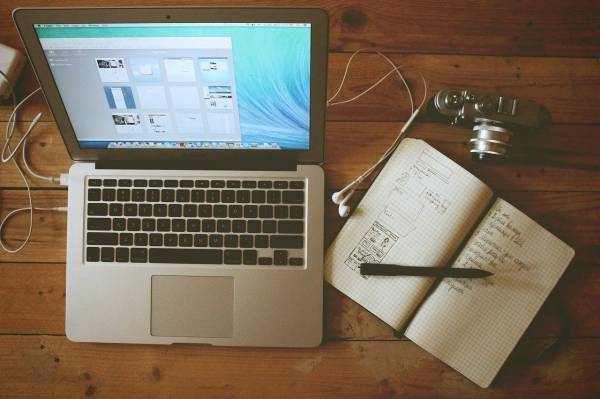 pixabay.com
Also there are jobs in banks that are willing to take the financial advisors and generally recruit to the departments. However, here the preference is given to students of 4-5 courses.
If we talk about the hospitality industry, there are many vacancies of waiters, bartenders, baristas, aspiring cooks, hostesses. Some options are there also for teachers English Tutors for students of 4-5 courses of the linguistic University.
See also:
General competition or the father of the Deputy. As young girls receive high positions in the civil service
According to Sergei Marchenko, among 4 thousand of jobs for students who register on a daily basis, the most popular realtors, professionals working with clients in banks, order pickers, office managers, regional managers, sales managers, customer service, laborers, administrators, operators of the call center.
For such work the average student can expect to pay in the range of 5-8 thousand UAH.
Office work provides the possibility of partial employment, but here rather we are talking about the format of the internships, said Pashkina. In particular, interns, part-time and take in the HR and financial departments.
Moreover, not always such training requires special education because the employer sometimes it is easier to teach a new employee "from scratch" than to break. And even if you find that job where you interned, not for you, you can go to a meeting and offer something more interesting.
ADVICE TO APPLICANTS
The most important advice given to the applicants this activity. "Employers don't want to take such an applicant who needs to talk: "And come to the interview. And come back after the interview, give us the documents. Then, won't you come to us to work". When the person you need constantly to persuade, it seems that it will work the same," – said Sergey Marchenko.
See also:
Dream job: in Ireland looking for a hugger cats
The activity should show the date of posting the summary. Don't sit and wait until your ad will respond to the employer. It is better to revise the proposals and send in your CV already to the address of a particular company.
"We have a lot of applicants who come, put your resume and waiting to pounce on him employers. If it is not a highly qualified specialist and not a young and promising student, of course, several calls he can wait. But if he drew a crown and a mantle is wrapped, as a rule, no result. Employers also want to get yourself in the state of a person, not just a chair in the office warming up and working on the result and does it qualitatively and effectively", – said Tatyana Pashkina.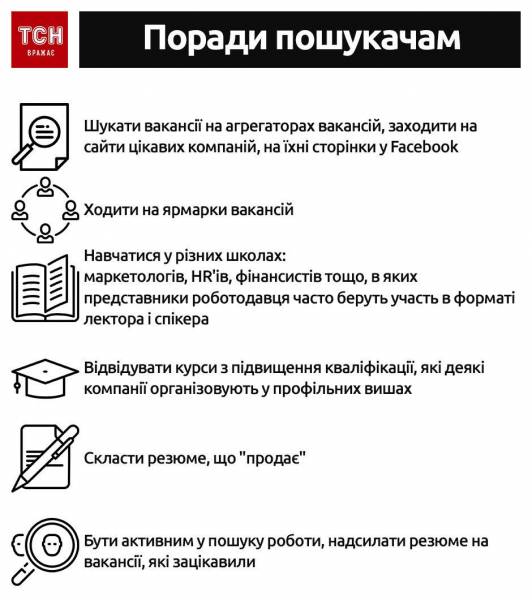 Dnia
In addition, when you simply place the resume online, you compete with thousands and millions of the same applicants. And when you unsubscribe directly on the job posting, it will greatly increase your chances to be noticed by the employer.
Also of great importance is the very summary. If it is made very well, it is unlikely that the employer will waste time on a callback and validate such a candidate.
Along with a summary will not be superfluous to send more small accompanying text. "It works very well. It can be a essay about yourself or a story about why the applicant chose this company. This can be a passage like: "I'm always impressed by the product that you release. And it would be very cool to join the team that makes this product, " said Sergey Marchenko.
Olga Skichko
Videoexpert told how to make money on maternity leave
Snidanok 1+1
March 6, 12:06
Facebook

VKontakte

Google+

Twitter

Viber
Priznaytes to TSN from Viber that atribuite
nivalis news just the messenger!
Comments
comments