Injured in the explosion was a famous model Dior – volunteer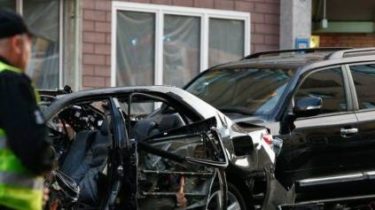 Injured during an explosion in downtown Kiev , the woman was a famous model who took part in the companies Dior.
This was reported by the friend of the injured volunteer Ksenia Lazebnik, who came to visit her in the hospital. The victim's name is Natalia, but her last name the woman reveals, speaks, does not know what now she can wear.
See also:
In the Internet appeared the video of the explosion of the machine with Timur Makhauri in the center of Kiev
In the hospital she denied the information that the woman lost his leg. She has a torn left heel, broken hip, injured right hand. Now the woman's leg trying to save the doctors, information about the amputation has not been confirmed. Also, she was badly damaged face.
The baby's fine, it only burns the first stage. Now he was transferred to the Department of burns. According to an acquaintance of the victim, the child – 6-year-old boy named Anton, son of the victim, although earlier it was reported that during the explosion injured 10-year-old girl.
Why was the woman in the car familiar can not answer. Not says and what connection she had with the deceased Timur Makhauri.
"I don't know anything, and nobody knows except for her," says Ksenia.
According to her, Natalia was also a Toyota, but exploded whether it was he, really can not say.
The TSN reporter Oksana Mulyar.
We will remind, in the evening of September 8 in the center of Kiev near Bessarabian market , an explosion occurred in a car Toyota Camry with Georgian license plates. In the car were three people. As a result of the incident killed a man. The police found that he was a citizen of Georgia Temur Makhauri. Security forces link him with the Chechen community. In 2017, he was detained in Kiev for illegal storage of the weapon, but the man was freed in a plea deal. Makhauri is called "personal enemy" leader of Chechnya, Ramzan Kadyrov.
Also as a result of the incident injured the woman and child. For the life of the first of these fighting doctors, she is in Kyiv hospital No. 17. The child was hospitalized in the "Hospital". His life now threatens nothing.
Comments
comments