Lutsenko without the terrible folders and jokes Poroshenko over Klitschko told about the party BPP in zalese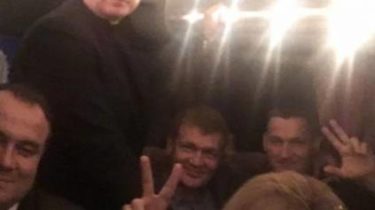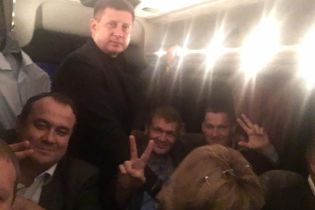 The party of deputies of the bloc of Petro Poroshenko took place the day before away from prying eyes, the party had opened the political season with a feast in the state residence "zalissia". After one and a half hour message in the Verkhovna Rada the head of state has invited MPs, government members and heads of areas from informal communication, says the story TSN.19:30.
Last night on the road in a forest near Kiev it was possible to observe a convoy of expensive cars is the people's representatives and officials from the presidential party journeyed to the residence. Some MPs arrived in an organized bus, but no journalist even close to private party not admitted. "Zalesye" chose not to create inconvenience to the people of Kiev, explained in BPP. In this residence loved to relax and Viktor Yanukovych – that's where he celebrated his 60 years, noting the anniversary of dances with Irina Akimova.
Videopresence party had opened the political season with a feast at the state residence zalissya
TSN. 19:30
Yesterday, 20:27
Facebook

8

VKontakte

1

Google+

Twitter

1

Viber
About party in the woods behind a high fence the state residence "zalissia", the deputies, who have been there say reluctantly, but I assure everyone that no festivities was not without its dancing and star chants, usually accompanied party the party of Yanukovych. Meeting in the fresh air the President began with a short speech praised the deputies for the adoption of education reform, ribbed capital mayor Vitaly Klitschko, who now, through decentralization, they say, can not afford to buy not only the bike, but the subway troieschyna. Visitors have covered a small buffet. "No concerts were not. I could sing, but something did not. And no other concerts were not. We talked, the President speaks, we discussed the current political situation", – said the people's Deputy Alexey Goncharenko. "Treated, but not as always. So, had a snack, because everyone was hungry… But it was not such, as now reported by many media as under Yanukovych – dancing, some entertainment groups, teams", – said Valeriy Patskan.
See also:
The media learned how the "BPP" informal opened the political season in Zalesie
The President in the circle of colleagues, which often conflict with each other, again spoke of the need to keep unity. Some of the deputies joked that unity is best strengthened presence at the party, Prosecutor General Yury Lutsenko. Which, however, all were reassured that came with no views on the removal of immunity. "He immediately said: see, I, your daddy and all exhaled," – said Goncharenko. Lutsenko was made by comparing Ukraine with the ship in the storm, and the Prime Minister Groysman asked deputies to make health and pension reforms.
Comments
comments