The epicenter of the explosion on Bessarabka was in the car at Makhauri – expert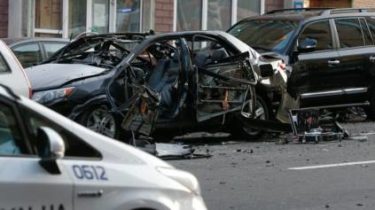 The explosives in the car that exploded yesterday evening in the capital, most likely, has not been established outside the car. Experts believe that the bomb was in the cabin, according to a story TSN.19:30.
"Toyota" with the Georgian numbers exploded when the inside was three people. Behind the wheel was a woman, a man was sitting in the passenger seat, and 7-year-old girl behind. After the explosion, the car caught fire, the drivers of neighboring cars ran to get out of it people. Chances to survive at the man were not – he died on the spot. The girl suffered some burns, in critical condition, her mother, her ambulance was immediately taken to the hospital. Until late in the night the victim was immediately operated on, three teams of doctors. "Minno-an explosive trauma, there is not only hip, there damaged the face and eyes, and limbs, and skeletal trauma, soft tissue injury," – said the head of the Department of polytrauma Dmitry Myasnikov.
Videoslittle examines six versions of the car explosion in the capital of the Bessarabian
Releases TSN
Yesterday, 21:02
Facebook

2

VKontakte

Google+

Twitter

Viber
The state of health of the victim, the doctors doctors do not comment, because in the hospital, visited her mother, who writing banned to provide any information about her daughter. The victim's identity once established is a Chechen Ali Tmav. He had Georgian citizenship and was known under a different name Temur Makhauri, a soldier of one of the Chechen battalions. Friends and fellows who arrived on the scene of the explosion, are convinced that Timur killed by Russian special services. "He was trying to undermine four times, three times near the house in Georgia, where he lived, was shot twice. Not the first attempt to kill him," says one of them.
See also:
In the Internet appeared the video of the explosion of the machine with Timur Makhauri in the center of Kiev
The expert, who agreed, along with TSN to carefully review the footage with the blast site, said the device detonated inside the car, evidenced by the torn roof and no signs of tear on the pavement. The theory that it was a pomegranate, Director of the center of judicial examinations "Alternative" Alexander rejects It because the explosion was much more powerful. But in my experience, the technician remembers that a bomb was laid right in the car – killer don't do it. "He could something to carry. If it is an industrial explosive, it viralled so that didn't react to a blow, friction, and homemade explosives it can from the normal – rubbed leg – work", – says the expert.
Comments
comments