Saakashvili changed the plan to arrive in Ukraine: now he will sit on "intercity"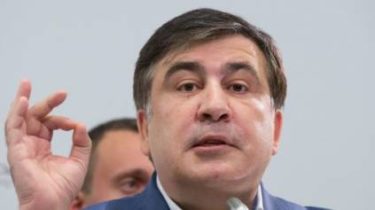 The former head of the Odessa regional state administration, Mikheil Saakashvili said he was not going to enter Ukraine via KP "Krakovets" on the bus, but he can enter Ukraine by train "intercity".
He said this to reporters during a stop in Przemysl.
Saakashvili said that the decision he and his team took to avoid provocations. He noted that now in Krakovets in the Lviv region, now a lot of people that support it, but also, according to him, there are "aunts". The politician said that he was aware of the plans of provocation, which was allegedly prepared by the AP.
See also:
The attempt Saakashvili to return to Ukraine: read the most important thing in text online
"To avoid provocations, we have consulted, but we can go on a "intercity", – Saakashvili said and also noted that will consider how to do so together with him on the train were all journalists.
The representative of Saakashvili told journalists invited to the fourth platform, the fourth car. They advance reserved tickets.
See also:
In Saakashvili's party accused the police of synchronous work with "aunts"
The train will depart at 14:07 Kyiv time, the lions train will arrive at about 16:02.
Note that the train "intercity" does not stop at the border for document checks, they will be checked just on the train.
We will remind, earlier Mhel Saakashvili was going to arrive in Ukraine via KP "Krakovets" on the bus with journalists. In STSU noted that is not going to pass Saakashvili to Ukraine, so he should pick up a passport (domestic and two foreign) and return back to Poland.
Ukrainian citizenship Saakashvili gave his decree the President of Ukraine Petro Poroshenko at the end of may 2015. On the eve of getting a Ukrainian passport he was appointed Chairman of the Odessa regional state administration. In December 2015, it was deprived of Georgian citizenship. At the head of the Odessa region , Saakashvili worked for a year and a half, after which he announced his resignation, accusing the President of violating the promises and progress to senior positions in the regional administrations of the "old corrupt".
Then the former President of Georgia announced the creation of their own political powerwhich will go on elections to the Ukrainian Parliament. In Georgia the politician is charged with four criminal counts. He faces up to 11 years of imprisonment. Deprived of citizenship , Saakashvili in late July, when he was outside Ukraine. He is a politician promised to return September 10.
Priznaytes to TSN from Viber that atribuite
nivalis news just the messenger!
Comments
comments