The driver went into the car and asked for a fire extinguisher: in a Network there was video fire smoke in the Kiev metro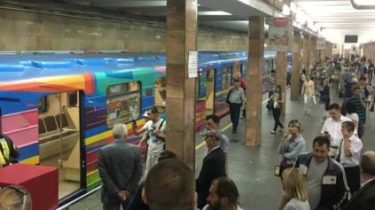 User Karina Kutsuruba on his page in Facebook posted a video of the process of clearing the smoke on a stage in the Kiev metro.
According to her, the driver literally "flew" into the car and asked it to submit a fire extinguisher.
"The driver asks you to hold the door and puts out something right below us. Goes. Comes back again and again extinguishes. Says nothing, there is no fire, just some smoke," said an eyewitness.
Witnesses who were in the subway, said the train, which was moving in the direction of the station "Heroes of Dnepr", and focused on the stretch between stations "Kontraktova square" and "Taras Shevchenko".
It is reported by Gromadske.
"For a few seconds extinguished the light, however, soon joined emergency power. From the cockpit in the car came and the driver asked the passengers to pass the fire extinguisher. Said to cool the brake pads. With the help of passengers forcibly opened the door and in the car the smoke. People panicked," said an eyewitness Galina Slanina.
See also:
The queue and the long way home because of the smoke in the metro Kiev walk
Comments
comments