The vandals-recidivists again dyed the water in the fountains on Maidan Nezalezhnosti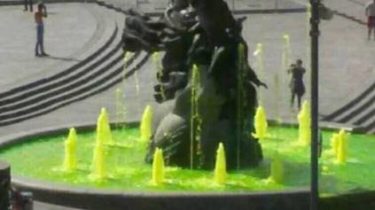 Shortly after the sanitary work in the fountains on Maidan Nezalezhnosti in Kiev the colored water. About it reports a press-service of "Kawatha".
The specialists of utility companies are forced again to carry out sanitary-preventive work. They warned that if the vandalism does not stop, the fountains in the centre of the capital will have to disable before.
"The fountains on independence square will run until 30 September 2017, but because of such actions the work of the fountains may be stopped much earlier! I hope that such situations will never happen again and our giants will please all residents and guests of Kyiv according to the approved schedule", – is spoken in the message.
once completed the sanitation work in the fountain complexes, as today again took water bright green Subaru…
Published SVK "Cawdron" 12 September 2017
All concerned are urged to be vigilant and call law enforcement if they see bullies.
As previously reported, this weekend at the independence square in Kiev, the water in the fountains was an unusual bright green color. Later the phenomenon was repeated in the Park Sahaidachny at the hem.
Comments
comments