In Kiev, a member of the Femen bare-breasted protest against trump by the US Embassy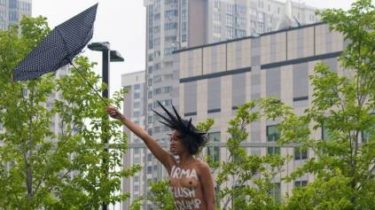 In Kiev, the day of 13 September, member of the movement Femen staged a Topless protest near the U.S. Embassy in Kiev.
About it reported in a press-service of the organization.
The activist says "Irma, wash trump" on the naked breast climbed up on the stone pedestal near the dipuchrezhdeniya. In the hands she was holding inside-out umbrella that blew like a mighty hurricane. On her head was a wreath, similar to the headdress of the statue of Liberty.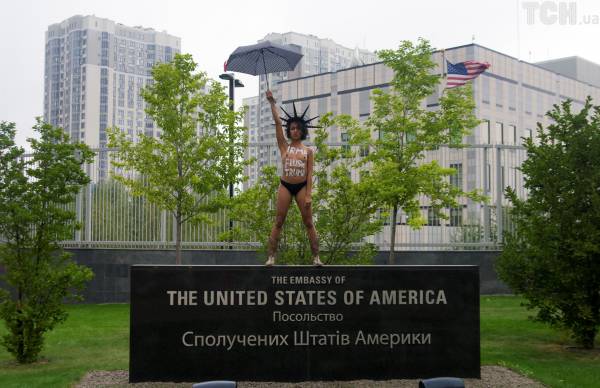 Reuters
In the message of the Femen calls trump a "threat to humanity" and "xenophobe". During its action activist allegedly refers to the forces of nature and asks to rid the world of the American leader.
See also:
Femen activist Topless climbed onto the pedestal of Lenin and throwing candy
"Oh, great and terrible "Irma" hear us!" – said in the text.
As previously reported, Femen activist held a rally on the road in front of the checkpoint Krakovets, where he awaited the arrival of the former head of the Odessa regional state administration of Mikheil Saakashvili. The woman bared a breast and put up portraits of the President of Ukraine Petro Poroshenko and Saakashvili.
Comments
comments