The military Prosecutor's office came with a search warrant to the Chairman of the Commission government city Council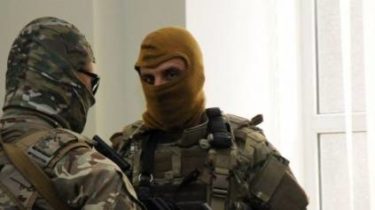 The law enforcers came with a search warrant to the Chairman of city Council Committee on local self-government, member of the faction "Batkivshchyna" in Kyiv city Council, Oleksandr Bereznikova to prevent the taking of a decision on "impeachment of the President."
This was announced on his page in Facebook the head of the faction "VO "Batkivshchyna" in Kyiv city Council Volodymyr Bondarenko.
"Search from 7 a.m. to conduct military Prosecutor of Ukraine Anatoly Matios. A group of people, representatives of military Prosecutor's office came with a search warrant in the apartment of a member of the faction of "VO "Batkivshchyna" in Kyiv city Council, Oleksandr Bereznikova", – he wrote.
According to Bondarenko, the search is carried out at the place of registration of the MP, although the resolution is specified a different address.
"Alexander Berezniki is the Chairman of city Council Committee on local self-governance, at this meeting, which had considered the draft decision "On the impeachment of the President of Ukraine", initiated by the faction of "Batkivshchyna", – he added.
Also the head of the faction said that the decision by the Commission composed of 4 deputies (the representatives of the factions "of the "Batkivschyna", "Svoboda", "Samopomich" and "BPP") must have a quorum consisting of 3 members.
"Given the circumstances, Berezniki obviously will not be able to attend the meeting of the Commission. And one of the members of the Commission is the representative of the faction "BPP" who sabotage a draft decision on all commissions, and which may deliberately not to come to the meeting", – said Bondarenko, has predicted that the meeting may be disrupted due to lack of quorum and, accordingly, the draft decision will not be considered.
The MP stressed that it will not put the draft decisions in the agenda of the next meeting of the city Council and expressed the assumption that the government is wasting time.
"By brute political pressure on the political party "Batkivshchyna", – he concluded.
#search Search 7 in the morning to conduct military Prosecutor's office of Ukraine A. Matios. A group of people, members of the military about…
Posted by Vladimir Bondarenko 13 Sep 2017
Comments
comments