The EU has no schools with the teaching of all subjects in the Ukrainian language – Grinevich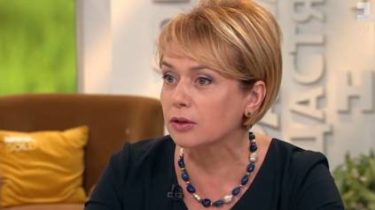 Ukraine will provide the so-called language article of the new law on education examination of the Council of Europe – and this should remove the limitation of the rights of national minorities, the law fully complies with European standards. This was stated by the Minister of education Liliya Hrynevych after a meeting with the ambassadors of 11 States in which she explained the government's position, according to a story TSN.19:30.
In her opinion, changes in favor of the Ukrainian language will not be narrow, and will expand the rights of national minorities, because now, for example, Transcarpathian Hungarians pass the testing with extremely low scores that closes the way for them to Ukrainian universities. Such graduates are forced to spend a lifetime in your enclave, or leave to study and work in Hungary. Budapest, apparently, are quite happy. Hungarian foreign Ministry angered the intention to increase the weight of Ukrainian in minority schools, where now the Hungarian is trained over 16 thousand students. "Ukraine plunged Hungary a knife in the back, by making changes to the law on education, which strongly violates the rights of the Hungarian minority. It is shameful that a country that seeks to develop an increasingly close relationship with the European Union, adopted a decision that is in total opposition to European values", – said there.
Videobrain responded to the indignation of Europe, to reduce the amount of teaching in minority languages
TSN. 19:30
Yesterday, 20:31
Facebook

VKontakte

Google+

Twitter

Viber
Other neighbors of Ukraine reacted more restrained, however, and they threatened to complain to Ukraine in Brussels. The Minister of education met with the ambassadors of concerned countries and tried to explain that Ukraine is defending itself, but it does not violate any conventions, and inherits what you do for yourself neighbors. "How is the training in the Ukrainian language in our partner countries? In one country there are no schools with the teaching of all subjects in the Ukrainian language. So this practice that we want to introduce our new education act, meets the modern European practice," – said Grinevich.
See also:
Groysman promised to explain to the ambassadors of the EU countries, the controversial law on education
Did the Minister convince the ambassadors is not clear, because from the review they refused. The Minister said that together with diplomats agreed to give the law to the examination of the Council of Europe, and only in the case of a negative opinion, it can change. Grinevich hopes that the President will sign the bill now and reform of education will not slow down, as the Ukraine is concerned over outflow of the youth abroad. But the neighbors is the only benefit in Poland found that only 2% of Ukrainian students plan to return Home. A million Ukrainian labour migrants fairly and promote economic growth at the time, as Ukraine only loses.
The TSN reporter Maria Vasilyeva
Comments
comments