Experts said the reasons why Ukraine has sharply risen in price eggs and chicken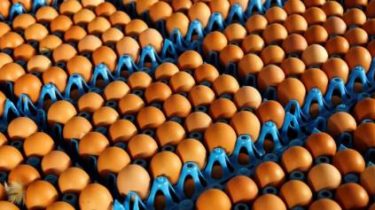 Autumn is traditionally added to the price of chicken eggs. Experts say that they will cost 26 UAH per dozen.
This is stated in the plot program "snidanok z "1+1".
Vendors say that just in the last week eggs have risen by a record 6-7 UAH. Near the stalls with fresh eggs, where early in the morning crowds of people now all – a rarity.
Such sharp jump of the prices for chicken eggs is simple: due to the fact that the value of the grain depends on the dollar, manufacturers more profitable to sell eggs and chicken meat abroad for the same dollars. And the Ukrainian market gains unrealized surplus. And also for the currency.
"Export has increased significantly. For example, in poultry we are at the same volume of poultry exported 42% more than in the past Romeu. And with the same volume of production of chicken eggs, we have exported to 36-37% increase from last year. But domestic demand in the Ukrainian market remains constant and the same. And in fact we see the situation that due to the fact that the demand increases on the domestic and foreign markets, the pricing policy is in this case up," – explains the Deputy Chairman of the Ukrainian agrarian Council Denis Marchuk.
The same situation with the prices for poultry meat. If in early summer, kilograms of chicken can be bought for 70 UAH, now – not less than 90 UAH. And when you do will stop the rising price of poultry products depends on the rise in the dollar.
Comments
comments