Media called the reason of the terrorist Zakharchenko in the Kremlin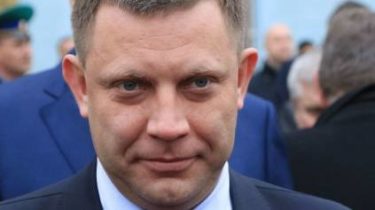 The leader of the Donetsk terrorists Alexander Zakharchenko was summoned to the presidential administration of the Russian Federation Vladimir Putin due to concern about the possible introduction of UN peacekeepers to the Donbass. Such opinion in the comment "observer" expressed Russian opposition politician Olga Kurnosova.
It was reported that Zakharchenko went to Moscow ostensibly because of the 80th anniversary of simpatika "DNR" singer Joseph Kobzon. However, Kurnosova believes that this is just an excuse.
"The situation around the breakaway republics is escalating. The situation around the peacekeepers is at its peak. The Kremlin is concerned. Including the position of the trump (President of the United States – Ed.) which almost coincides with the position of Ukraine, and the fact that the vote on peacekeepers may be carried out by the UN General Assembly that will eliminate the possibility of imposing a veto," she said.
See also:
Terrorist Zakharchenko called the main goal of "DNR"
According to the politician, the Kremlin Zakharchenko will give directions.
"Kobzon is the only reason, but the reason for the need to give, wise instructions on how to behave in the nearest future", – said Kurnosova.
Earlier, the puppet ringleader "DPR" Alexander Zakharchenko said he was ready to discuss with Kiev the conditions of stay of the peacekeeping mission in the Donbas.
"We mean the following: is the protection of the OSCE mission. This is not a direct peacekeeping mission. And we are ready to discuss with Kiev these conditions concerning the stay of the mission", – said the leader of the militants, repeating the words of Russian President Vladimir Putin.
Comments
comments