Groisman was threatened with dismissal of the Chairman of the Antimonopoly Committee and "hangers-on"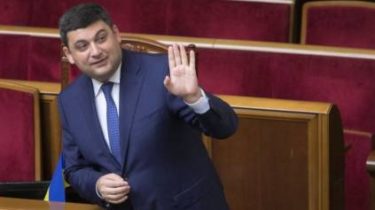 Prime Minister Vladimir Groisman threatens dismissal of the head of the Antimonopoly Committee Yury Terentyev and "hangers-on" if they keep blocking important public tenders.
The head of the government said from the rostrum in the Verkhovna Rada, UNIAN reports.
"I'll deal with AMC, and if I see the plot – as they say, the AMC has become the second tender chamber, I will put the question on dismissal of the Chairman of the Antimonopoly Committee and all its hangers-on," – said Groisman.
The head of government said that "this year the efforts of the SFS we will be able to mobilize 50 billion hryvnias in the budget of Ukraine. But that's all you need to do it systematically – we need the equipment at customs, need scanners, etc. SFS announced a tender for the purchase of such scanners – x-ray across the border of our state, to understand what and at what price are imported into the country. Think about it – the Antimonopoly Committee yesterday or the day before to cancel the tender. It can only be described as a crime against the state, against the state budget, this is the crime that covers trafficking in the country and allows us to deal effectively".
Yesterday Groisman threatened his dismissal if the MPs will not accept pension reform.
Comments
comments