The GPU arrested a judge who wanted to give Holodnitsky $ 300 thousand bribe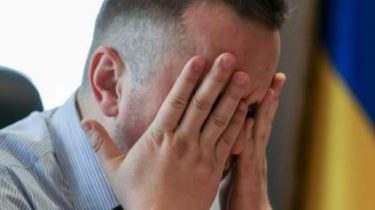 The Prosecutor General's office of Ukraine detained the two judges who offered $ 300 thousand for the closure of criminal proceedings against the judge. To pay wanted the head of SAP Nazar Golodnitsky.
This was reported by press Secretary of the Prosecutor General Larisa Sargan.
So, the Department of investigation of particularly important cases in the sphere of economy of the GPU were documented proposals and giving undue advantage to the service person. To give money for the closure case against the judge, whom NABU was suspected of corruption, tried to Golodnitsky.
See also:
In Transcarpathia on 150 thousand hryvnias of a bribe caught the assistant Deputy
"The pre-trial investigation in criminal proceedings it is established that the Chairman of the Kirov district court of the Dnieper shared with the judge of the said court to avoid criminal responsibility who is suspected by the National anticorruption Bureau of Ukraine in the Commission of a corruption criminal offence, asked the Deputy Prosecutor General – head of the Specialized anti-corruption prosecutors Nazar Golodnitsky, undue benefit in the amount of 300 thousand USD for a decision regarding the closure against the judge criminal proceedings with the aim of avoiding past criminal responsibility", – stated in the message.
The General Prosecutor's office jointly with the SBU detained 2 judges, who suggested that 300 thousand dollars for closing against a judge…
Published by Larisa Sargan 21 Sep 2017
Malefactors were detained in the transfer of the first part of the sum – 50 thousand dollars.
"Special attention deserves the fact that "the judge" while under investigation had committed a new criminal offense, despite the fact that in respect of him by the court a preventive measure in the form of house arrest wearing an electronic control, the so-called "electronic bracelet" and the prohibition to leave the locality in which she resides, without the permission of the investigator, Prosecutor or court", – added in GPU.
Currently, the complex of investigative and search actions to establish all the circumstances of the criminal offense, as well as the issue of election as the detainee of a measure of restraint in form of detention.
Court employees accused of bribing officials, which is punishable by imprisonment up to 10 years with confiscation of property.
Pre-judicial investigation proceeds.
We will remind, earlier the High Council of justice dismissed judge of Leninsky district court of Poltava Sergey Kononenko from office due to suspicions of bribery. Kononenko was detained during receiving a bribe of 5 thousand UAH from the representative of the plaintiff in a civil case. According to investigators, the judge took a decision in the interests of the plaintiff, who was required to recover the debt in the amount of 100 thousand UAH.
Comments
comments