Russian media spoke of Ukrainian judges in the case on Saakashvili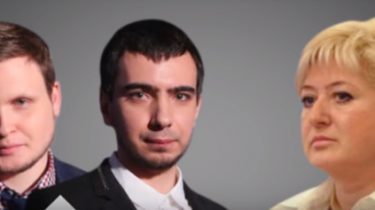 The judge Mostiskogo district court of Lviv region Yuriy Belous and Chairman Halytsky district court in Lviv Irina Volosko were victims of phone prank the controversial Pro-Kremlin media by Vladimir Kuznetsov on the nickname "Vovan" and Alexei Stolyarov, known as "Lexus".
During a call, the media presented the people's Deputy of Ukraine from fraction "Blok Petro Poroshenko" Alexander Granovsky, who, according to the media, has influence on the judicial branch of power in Ukraine. The wag suggests that the court will witnesses who saw the violation of the procedure of crossing the state border of Ukraine, Mikheil Saakashvili. In turn, alleged the judge Belous said: "There are a lot of witnesses. I think that definitely will need for the completeness, objectivity and legality of the decision, to invite and interrogate".
Allegedly the judge said he would make the decision according to applicable Ukrainian legislation. Also Yuri Belous said that he needed only the help of truthful testimony about the events at the checkpoint "Shehini" September 10. Also, Belous misleading that it is supposed to come, "Poroshenko people" to which the judge replied: "You know where I am".
See also:
Turchynov advised the head of "Yuzhmash" to use the special communication after a conversation with the former President of the Russian Federation
In addition, the media managed to record the alleged and Irina Volosko, which is during a telephone conversation stated that it was not in Ukraine but in France. During the conversation, the judge allegedly Galician district court of Lviv to the question of whether it is a judge Radchenko, said: "Well, I know today or at the end of the day, if they come to the Prosecutor or on Monday morning at 9, 9:30. Need to be call when the Prosecutor and the investigator. And then, as I understand it, I know that when there is neither Prosecutor, nor investigator… me five minutes ago was talking to the court. It speaks of personal commitment. I filed a motion "under personal obligation". So we need to support the personal obligation. Understand you correctly?"
Volosko is also said that he will do his utmost, though it is difficult to do, given the fact that is abroad.
Note, Smith and carpenter were repeatedly accused the Kremlin and the FSB. The former President argues that it is not working "to order", at the same time recognizes that it has deals from "friends" on the selection of topics for the next draw.
Victims Kuznetsova and carpenter at various times became Ukrainian politicians and businessmen, in particular, Mikheil Saakashvili, Vitali Klitschko and Igor Kolomoisky.
Comments
comments