The OSCE has told about strengthening the militants positions near Lugansk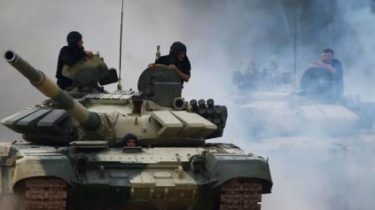 Observers of the OSCE mission recorded close to the occupied Lugansk camp with firing positions, bunkers and trenches that have been recently landscaped or built near the village of Long.
This is stated in the report SMM OSCE.
"Outside the government's control areas, observers saw a single armored vehicle (MT-LB) in the village of Old (count the Red Flag, 58 km on West from Lugansk). September 21, mini-UAV the SMM observed trenchers (TMK-2), 3 infantry fighting vehicles (BMP-1), as well as signs of the presence of the existing camps, namely firing positions, bunkers and trenches — all for newly established or still under construction near S. Long (22 km North-West of Luhansk).", – stated in the message.
See also:
From the beginning of 2017 in Ukraine is not allowed to 1,6 thousand Russians
In addition, observers recorded the uncontrolled. Peaceful outside the selected storage locations a large number of weapons and other equipment, which was in good condition, repaired and charged.
"The UAV has recorded 30 tanks (twenty-eight T-64 and two T-72), 7 self-propelled howitzers (2S1 Carnation 122 mm), 6 buksirovka howitzers (D-30 "Frog", 122 mm), 9 mortars (120 mm) and 6 anti-tank guns (MT-12 "rapier", 100 mm) and 56 infantry fighting vehicles (BMP), 6 trucks, each of which was installed anti-aircraft gun (ZU-23, 23 mm) 14 armored vehicles (13 type MT-LB and 1 BRDM), 3 armoured repair and recovery vehicle (VT-55) and 3 engineer vehicles for mine (two UR-07 and UR one-77)," – said the OSCE observers.
Earlier it was reported that the drone of the OSCE has recorded 48 tanks of fighters at a distance of 57 kilometers from the occupied Donetsk.
Comments
comments